Saturday, June 4th, 2011
Local track athletes perform well during finals of field events
State Track Field Event Finals
By Bruce Monnin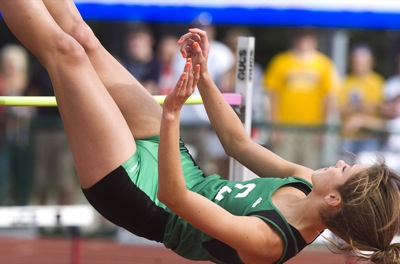 COLUMBUS - Field events dominated the action for local athletes on the first day of the state track meet on Friday. The finals were completed in all field events involving local athletes with the exception of the Division II shot put. The finals in the shot put and the rest of the running events will occur today.
Division II Girls High Jump
Celina's junior Lizz Carr cleared 5-3 at last week's regional meet, and hoped for an even better showing at Columbus. However, she (and apparently many others) were taken off guard when after 14 athletes cleared 5-2, the bar was moved up two inches to 5-4.
"That kind of surprised me," said Carr, "normally they go one inch at a time at that height."
Eight of the remaining jumpers failed to clear the new height, but Carr finished in a tie for seventh place due to winning the tiebreaker for fewest misses at the previous height. She is hoping for better results during her senior season.
"I definitely plan on being higher on the podium next year," said Carr.
Division II Girls Discus
St. Marys' senior Mekayla Breland is the defending state champion in the Division II shot put, but this was her first visit to the state meet in the discus. She entered the event with just the 12th-best result from the regional meets, but improved by over six feet to claim eighth place with a throw of 125-3.
Breland was extremely melancholy after stepping down from the podium, not due to disappointment in her effort but due to the approaching end of her career. She had fouled on her first attempt by throwing the disc into the net, but that was not a disappointment to her.
"I put the first throw into the net almost every time," said Breland.
Division III Pole Vault
Last year, Minster's junior Kayla Wuebker set her own personal record by clearing the bar at 11-6 to finish in fourth place. She had so far been unable to match that mark this season, so she tried to use a new pole this week.
"It was kind of scary using a new pole," offered Wuebker.
The pole seemed to work as she cleared the bar on her first attempt at 10-0, 10-6, 11-0, 11-4 and then set her new personal record of 11-8, also on her first attempt.
Three tries at 12-0 failed, but Wuebker had finished in third place and again set her personal best at Jesse Owens Stadium.
"This is just the place to do your best vaults," she added.
Normally a junior who finishes third has her sights firmly set on winning the title as a senior. However, this will be a challenge for Wuebker as the only athlete on the podium who is a graduating senior was the state champion.
For the boys, Marion Local's Mitch Kremer had a great week in practice, often clearing 14 feet. However, on Wednesday he injured his ankle working in the fields, and was noticeably limping. He cleared 12-0 and 12-6 despite his injury, then cleared 13-0 on his third try, nicking the bar which stayed up anyway. It was not quite good enough to earn a podium spot, as he finished in 11th place due to tiebreakers for missed attempts. Minster's Alan Tebbe was only able to clear 12'-0" and finished in 15th position.
Division III Long Jump
Minster's junior Derek Collins jumped 21-8 3/4 at last week's regional meet to be seeded sixth at the state meet. Collins jumped 21-4 1/2 on his third jump in order to qualify for the finals in fifth position. Collins was unable to improve on that effort during his last three jumps, but no one else was able to better their effort either, so he finished in fifth place.
Collins had some disappointment in not equaling his previous best, but he was also satisfied with the result.
"It was not as good as I hoped," he confirmed, "but it got the job done."
Six of the eight athletes on the podium were freshmen, a fact that Collins himself had noticed.
"I'm thinking that first or second place will be my goal next year," said Collins.
Division III High Jump

Two area girls competed in the D-III high jump. Marion Local's Gina Kramer had cleared 5-0 at the district meet, then improved by four inches at regionals. It was speculated that as a freshman she could perform at either end of the spectrum at the state meet, but instead she split the difference. Her best jump of 5-2 earned her a 10th-place finish.
Fort Recovery's senior Holly Brunswick finished in eighth place last year by clearing a height of 5-2. This year she matched her career best (and school record) by posting a height of 5-4 for seventh place. It was not without some concern, as she missed her first two attempts at both 5-2 and 5-3, needing a successful jump on her third and final try each time.
"I liked matching a personal record," said Brunswick. "But my goal was to get higher on the podium than last year, and one spot is good enough for me."
Division III Shot Put
Minster's duo of Jared Sekas and Ryan Will both participated in the shot put, but both were seeded in the bottom quarter of the field based on results from the regional meets.
Sekas' longest throw in the preliminaries was 46-7, which earned him a 12th-place finish.
Will had a better effort in his first three throws, the longest being 49-9, which earned him a chance to throw three more times in the finals. Though he did not improve, it was good enough for an eighth-place finish and the last spot on the podium.
"That was my goal coming in (reaching the podium), so I felt good," admitted Will.
With half of the eight medalists in the event being seniors, Will already has new goals for next year.
"I've got a lot to work at," added Will, "but hopefully I will get higher on the podium next year."
Division III Discus
Minster also had a thrower in the discus, junior Jake Winner, who came in seeded 10th in the field, and he threw to form. His longest throw of 143-7 resulted in an 11th-place finish. With six of the 10 athletes ahead of him in the final standings being seniors, Winner also has an opportunity to move up in the standings next year.