Thursday, June 9th, 2011
Wind, water help defend against heat
By Jay Clouse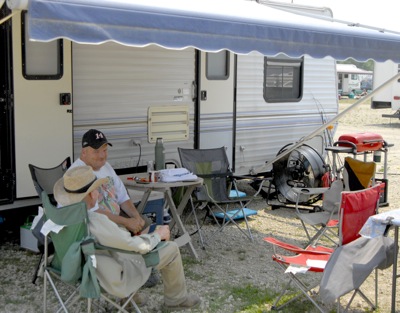 Summer unofficially starts in 13 days but it felt like mid-August Wednesday as temperatures soared 94 degrees.
The temperature didn't break the record of 96 degrees recorded at the Dayton International Airport in 1933, but the area was placed under a heat index warning by the National Weather Association.
Construction worker Allen Albright, who spent the heat of the day working on state Route 127 near Celina, said the key to dealing with the heat is drinking a lot of water.
"We try to stay hydrated," Albright said. "Our company gives us pouched Gatorade to put in water bottles; whatever it takes."
A strong breeze blew through the area most of the day, helping some cope with the rising temperatures.
"There's a nice breeze off of the lake," Albright said. "We just don't think about it (the temperature)."
South of St. Henry, thousands of race fans camping at Eldora Speedway for Wednesday's Prelude to the Dream were trying to stay cool.
Jim and Linda Bennett of Ionia, Mich., said Wednesday was the hottest day they have experienced in their years of visiting Eldora.
"We know it's gonna be hot when you come down," Linda Bennett said. "Just a matter of how hot."
Tim and Mary Drake of Middletown sat underneath an awning with Richard and Susan Condon.
"It's hot, but it's breezy," Richard Drake said. "God looks out for us."
The group of friends were resolute when they said heat couldn't deter them from coming out for race day.
Ken Vickers, a Trenton resident, had been camping at Eldora since Monday afternoon.
"We have central air (conditioning) in both of our trailers," Vickers said. "I think it's a little cooler today with the breeze."
Family physician Dr. Shanthi Satya of Celina said the biggest concerns with extreme temperatures are heat stroke and heat exhaustion.
"Heat stroke is very dangerous," Satya said. "(People) can have organ failure, mental confusion and an increased temperature."
The elderly and very young are most at risk. Warning signs for heat stroke include hot and dry skin, rapid heartbeat, lightheadedness and nausea.
By 3 p.m. Wednesday, Satya said she had already seen three cases of patients with heat-related problems, one of whom was admitted to the hospital.
"The main thing is good hydration," the doctor advised. "Light clothes when going out, avoid the sunlight, use sunscreen and rest in between whenever you can."
Satya also recommends staying in air conditioning or around fans to maintain a cool body temperature.
Ohio was not the only state experiencing hot temperatures Wednesday. Records were tied or broken in Baltimore, Philadelphia and Atlantic City with highs of 99, 97 and 95 degrees, respectively. Temperatures in Oklahoma have reached 104 degrees four times this month.
According to a study from Stanford University, average global temperatures could rise more than 10 degrees Fahrenheit by the end of the 21st century due to global warming, leading to unusually hot summers.
- The Associated Press contributed to this story.