Thursday, June 9th, 2011
Bowyer breakthrough
Prelude to the Dream at Eldora Speedway
By Mike Ernst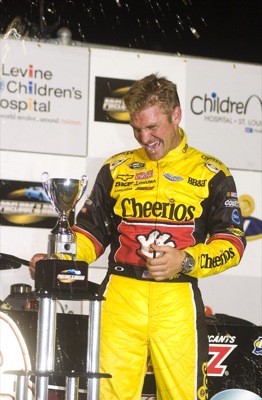 ROSSBURG - Clint Bowyer has knocked on the door at the Prelude To The Dream for the past five years and on Wednesday night he finally kicked the door down!
After five consecutive top-five finishes in the annual charity event at Eldora Speedway, Bowyer dominated Wednesday night's event by leading flag-to-flag to win the race for the first time as a driver. Bowyer is a champion for the second year in a row overall after Jimmie Johnson drove one of his cars to victory lane last season.
"It's just so much fun to be able to come here and compete," said Bowyer, whose victory was presented live on HBO's Pay-Per-View. "What an awesome racetrack. I've always loved this place and I'm very proud of Tony Stewart and everybody behind him that makes this event awesome. There's a lot of hard work to put on something like this, and we are very lucky to have him put forth the effort."
Bowyer started the feature event from the pole position and was out front leading for all 30 laps. Bowyer was pressured throughout the race by former open-wheel star J.J. Yeley but Bowyer won .531 seconds ahead of second-place Yeley.
Aric Almirola held off a charging Kyle Busch to finish in third place, while former dirt late model driver Justin Allgaier completed the top five.
The brutally hot weather helped turn Eldora's high groove into the fast way around the one-half mile oval and made passing tough.
"That's dirt racing. You never know what the conditions are going to be and Mother Nature plays a big role in that," Bowyer said. "It's been 95 to 100 degrees here for over a week. Under those conditions, it's going to take the moisture out of it and it is what it is. That's dirt racing."
Yeley, who has won in United States Auto Club (USAC) competition at Eldora, was thrilled with his runner-up finish.
"The racetrack just got slippery and because there's not a lot of experience out there, the racetrack doesn't get very wide, which makes it very difficult to pass. I got a good start, got by Almirola and whoever started inside of me there and, for a while, I thought I had something for Clint, but he was just really good tonight," Yeley said. "It beats going to any golf tournament any day of the week, and then some. Any time you can go play in the dirt, and for a good cause, it's a thrill to just be here."
Almirola scraped the outside wall in turn two on the opening lap of the race allowing Yeley to pass, but quickly corrected the misstep to finish third.
"To qualify sixth, to run second in my heat race and finish third in the feature, what an awesome night," Almirola said. "Clint Smith brought me an awesome car and I had fun. From the time I got off the airplane, I had an absolute blast. I do every year, but when you run well, it makes it all that much more fun."
Ricky Carmichael was impressive finishing in the sixth spot ahead of Ken Schrader, Austin Dillon, Ryan Newman and Kasey Kahne, who rounded out the top 10. Heat races were won by Bowyer, Allgaier, Marcos Ambrose and Jason Leffler.
The charity event again raised money for four children's hospitals across the nation with the 28 drivers broken up into teams, with each team racing for a different hospital.
Team St. Louis, which was led by Busch and Allgaier, came way with the team title, allowing St. Louis Children's Hospital to capture 30 percent of the proceeds raised from the event. The other Team St. Louis participants scoring points were Carmichael (sixth) and Kahne (10th).
Eldora track owner Tony Stewart forfeited his fifth-starting position and accepted a challenge, along with other past winners Kenny Wallace and Jimmie Johnson. By starting in the back, the trio had a chance to earn an extra $50,000 for their hospital if they went on to win the race. All three made little progress in the main event by finishing outside the top 15. Stewart was still all smiles following the event.
"It's awesome. We had another first-time winner tonight. That's what the fun part is," said Stewart, who has won the Prelude three times. "Watching Marcos Ambrose win his heat race and Jason Leffler win his heat race in his first time being here. ... That's the stuff that makes you smile and its fun to watch those guys have a good time."
Stewart also left impressed with the estimated 20,000 fans who braved the oppressive heat to witness the race.
"We had an awesome crowd," Stewart said. "We've had really hot weather this week and these race fans have stuck around. The Midwest in the summer, when it's hot like this, can get brutal and these fans stuck it out. There were people who sat in the stands all day today in the heat. We've just got great race fans here at Eldora."
Veteran Jerry Bowersock racked up another UMP Dirt Car Modified win, while Dean Pitts won for the second consecutive time, picking up the Eldora Stock Car win.
Officials at Eldora have little time to rest as the richest race of the season at the track is set for this weekend with $100,000 awaiting the winner of Dream XVII. Bowyer will look to make it a clean sweep of the weekend with drivers Dale McDowell and Jared Landers piloting the two cars he owns in the event.