Wednesday, June 15th, 2011
Logjam work planned for St. Marys River
By Shelley Grieshop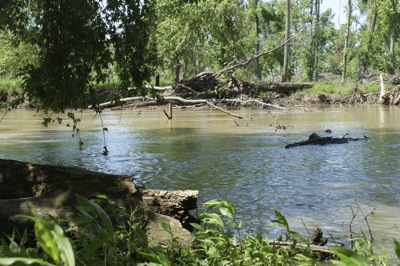 CELINA - Officials finally have enough money to work on logjams that block the flow of the winding St. Marys River and contribute to periodic flooding.
Mercer County commissioners on Tuesday set July 14 as the date to open bids for the estimated $75,000 project in Blackcreek, Dublin and Union townships. The company awarded the contract will have one year to complete the job.
The county engineer's office years ago would remove logs and other debris from the river annually, but that practice is gone.
"The last few years we were out of money," said Vern Eichler of the county engineer's office. "After the ice storm (January 2005), we've been playing catch up."
The money earmarked for the upcoming project will be derived from ditch maintenance assessments paid by property owners along the river.
The area targeted for work stretches from Gallman Road to the Van Wert County line, Eichler said. Workers will remove logs and other debris that are impeding the water flow and take down trees that are leaning toward the river at a minimum 45-degree angle.
Logjams in the Miami-Erie Canal in late February forced excess rainwater into the St. Marys River and contributed to massive flooding in the city of St. Marys. More than 100 homes sustained flood damage.
Mercer County is responsible for 23 miles of the river within its borders. Auglaize County has 22 miles and Van Wert has seven, Eichler said. Officials in the neighboring counties also are working to address logjams, he added.
"Ours is probably the worst. There's just so much more woods along the river in our county and the logjams are so hard to get to," he said.
Eichler said some of the problem spots are several miles from the nearest roadway. Contractors will use right-of-way space along the river's banks and other paths between fields to reach the areas in need, he said.