Wednesday, June 22nd, 2011
Commissioners reject sale of 4-H camp
Celina resident sought seven acres to construct housing development for Baby Boomers
By William Kincaid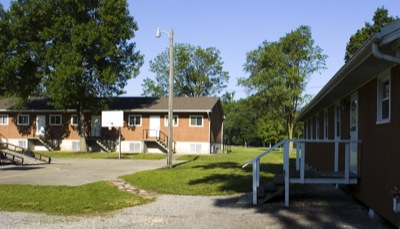 A proposal to purchase and convert the 4-H camp at Harbor Point into a housing development was rejected by Mercer County Commissioners this week.
Nancy Otis, a resident and statutory agent for the nearby Heron's Landing on the north side of Grand Lake, asked commissioners last week if she could purchase the seven acres for $65,000. She had said the development would target Baby Boomers.
In a letter to Otis this week, commissioners wrote that after much consideration and discussion, they were not presently interested in her offer.
"Over the years, it has served our county, state and even federal government (as a former POW camp)," commissioners wrote. "Our county citizens have recently expressed their love and pride of this property. We, too, understand the importance this piece of property serves in maintaining our history and 4-H youth background."
Commissioners pointed out that the land in question was purchased for $1 in May 1936 from the Riley family.
Otis this morning said her proposal would have been a wonderful opportunity to bring in "voracious" consumers to the area. She didn't yet know if she would seek another location for her planned housing development.
Last week, Otis told commissioners she was interested in the county land because she had been told it was a financial burden to the county.
Commissioners noted that many local clubs and organizations have donated funds in the last 10 to 15 years for improvements at the camp. 4-Hers use the property for several weeks each summer; the rest of the year the camp remains mostly vacant, commissioners said.
The site borders a lake channel south of state Route 703 and includes several cabins and a dorm-like structure, restroom facilities, a kitchen and dining room hall and a large open lot. It originally was owned by Dr. Robert Riley and his wife, who donated the land to the county commissioners for the 4-H camp in 1936, according to local history.
During World War II, the lot was used as a prisoner of war camp. In 1944, about 300 German war prisoners occupied the camp and were utilized to pick tomatoes for canneries in Rockford, Celina and St. Henry.