Wednesday, July 27th, 2011
Kiss your ash goodbye
Emerald ash borer jeopardizing area trees
By Shelley Grieshop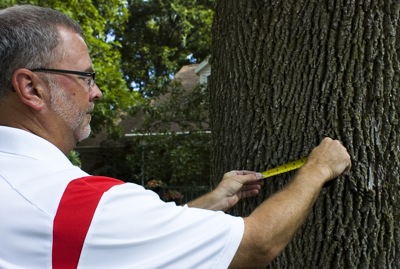 Officials estimate that hundreds of local ash trees are infected and dying from a small bug that's invaded the U.S.
The destructive emerald ash borer (EAB) has established itself in several local communities including Coldwater, where the dark, metallic green insects have chewed into a dozen or so trees in the town's sprawling, 40-acre park.
"It's a plague," village administrator Eric Thomas said. "At first we thought only a couple of trees were infected and we took them down, hoping they were the only ones. But that's not what happened."
The park alone has 150 to 200 ash trees at risk, he said. Thomas estimates about 100 other ash trees are on public and private property inside the corporation limits. So far, two infected trees were removed from the park and two others from private residences.
Thomas said the village will cut down all infected trees on town property as they die.
The half-inch long, Asian EAB thrives only on ash trees, which typically die within three to five years of infestation. Some affected trees, depending on their size, age and benefit to people, can be treated with pesticides; but the treatment must continue at least annually.
The adult bugs fly from early May until September and nest between the bark and hardwood of the trees. Their larvae grow inside the tree and leave distinctive D-shaped holes in the bark when they emerge as adults.
Another tell-tale sign of infestation is thinning canopies and/or dead branches at the top of the tree.
EAB infestations have been identified in 50 counties in Ohio including Mercer and Auglaize. All 88 counties are under EAB quarantine regulations, which means ash tree materials and hardwood firewood cannot be transported from quarantined areas to non-quarantined areas or outside the state.
Five years ago, the village of Rockford became the first confirmed community in Mercer County to have an EAB problem. The situation has only gotten worse, village administrator Jeff Long said.
"We've seen a lot of ash trees die," he said, adding the town has removed about 15 trees from its park and streets.
About 50 trees have been infected so far, he said.
"It's a shame," he added.
Ron Gelhaus, village administrator for St. Henry, said the town has no confirmed EAB cases but "there are signs." He decided to be pro-active and contacted Stephanie Miller of the Ohio Department of Natural Resources Division of Forestry for options.
"Once you begin treatment of a tree, you will treat that tree for the rest of its life," Gelhaus told council members this week. "But there are no guarantees."
Jill Ellis of the Ohio State University (OSU) Extension Office in Celina recommends attempting to save ash trees with more than 50 percent of their canopy remaining.
"Homeowners have only one option they can use on their own," she said.
Bayer Advanced Tree and Shrub Insect Control - costing approximately $40 a bottle - can be purchased by property owners. Stronger chemicals can be purchased only by licensed applicators.
The decision to treat a tree or not rests with its owner, Ellis said.
"If I had a big, old tree giving me shade, I'd say it's worth it," she said.
Trees that are taken down should be burned on site. The wood can be used for mulch but should be chopped into pieces smaller than an inch to insure the bugs are destroyed, Ellis said.
Officials estimate tens of millions of ash trees have EAB infections across the U.S., but no one really knows for sure, said Amy Stone of the OSU Extension's EAB Outreach Team in Lucas County.
"Early on we had a good count because we were removing all the infected trees, but since the eradication plan stopped, we can only estimate," she said.
The situation is dire, Stone admitted, but positive news is surfacing. Arbor enthusiasts have begun gathering seeds from infected ash trees and are sending them to a collection site in Fort Collins, Colo., for future planting, she said.
"They hope to get a genetic diversity so when the emerald ash borer is gone, American ash trees can potentially be planted again," she said.
Also, some communities are exploring ways to utilize the wood from the trees instead of just chipping it for landscape mulch, Stone said. Shelves and other items being installed in a new school in Cincinnati were crafted from infected trees removed from the city's streets, she explained.
"It's a positive side to a bad situation," she said.
- Daily Standard reporters Betty Lawrence and Jay Clouse contributed to this story.

Symptoms:
Ash trees infected with the emerald ash borer may exhibit the following symptoms:
• Distinct D-shaped exit holes in the bark
• Serpentine-shaped tunnels under the bark on the surface of the wood
• New growth at the base of the tree
• Unusual activity by woodpeckers, which eat the insects' larvae
• Thinning canopy of the tree
• Vertical splits in the bark
For questions or concerns, contact the Ohio Department of Agriculture at 888-OHIO-EAB or local Ohio State University Extension Offices (419-586-2179 in Celina and 419-739-6580 in Wapakoneta).