Wednesday, July 27th, 2011
New Bremen youths get hooked on fishing
By Margie Wuebker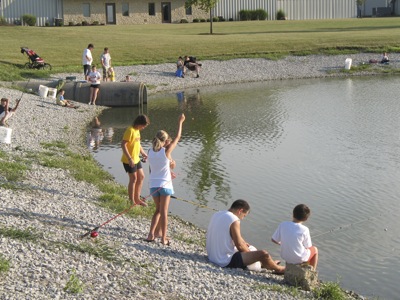 NEW BREMEN - Callie Wells pondered the door prizes at the eighth annual New Bremen Parks Fishing Derby before plucking a box of neon-colored worms.
"I haven't caught anything yet but maybe these worms will draw some attention," she said.
The worms apparently made a difference; Wells caught three fish and earned third place Tuesday night in the 7-10 age group.
The event, sponsored by the New Bremen Parks Department, drew 70 young anglers and parents who baited hooks, removed fish and untangled lines.
Madeline Burtch deftly threaded a wax worm onto a hook before heading to the water's edge at the Bunker Hill Industrial Park pond.
"I don't mind touching the bait, but removing fish is another matter," she said wrinkling her nose. "Fish are so wiggly and well ... so fishy."
Five-year-old Carson Bergman had no intention of dipping his pole into the water. The youngster was content pulling weeds from the stone-lined bank.
"Look what I caught," he said waving a nice specimen measuring 6 inches from leafy top to trailing roots.
Jarod Keller shared a story about the trophy catch that got away despite his best efforts.
"It was this big," he said, measuring a distance of approximately 6 inches with his hands and then revising the proportions to roughly 3 inches.
Jocelyn Shimp, proudly displaying her door prize of a Dora the Explorer fishing pole, wasn't hesitant about sharing her philosophy on fishing.
"First you have to leave your line in the water," she said. "Make sure you have tasty bait fishes like, and then wait until you can't wait any longer."
Mia Hirschfeld, who landed the first fish of the night, said the secret to fishing is staying calm and watching for the bobber to dance before pulling it up. She admitted with a giggle the process can be stressful.
Four fish, including one that measured 7 1/4 inches, confirmed her prowess and earned her second place in the 3-6 age group.
First-place winners in the various age groups were Grayson Pleiman with six fish, Ross Rutschilling with 10 fish and Adrian Lewis with nine fish. Alec Fledderjohn landed the largest fish measuring 12 inches from mouth to tail.
Special door prizes were awarded this year thanks to a donation from the family of Mark Heinfeld. The avid fisherman died earlier in the year.
Co-sponsoring the event were New Bremen American Legion, Fraternal Order of Police Lodge 76, Western Ohio True Value, the New Bremen Rod and Gun Club, Mike's Bait & Tackle of Indian Lake, Spillway Bait and Tackle of Fort Loramie and Walmart of Wapakoneta.