Friday, August 12th, 2011
Fair gets rolling today
High-flying stunt cyclists, demo derby, Go Kart and Motocross racing planned
By Jay Clouse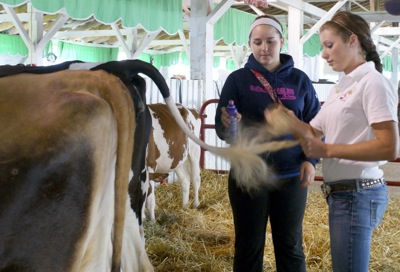 CELINA - Adrenaline levels have been turned up a notch for the 159th annual Mercer County Fair that kicks off this afternoon.
Visitors will be treated to high-flying stunt cyclists, a demolition derby, Go Kart and Motocross racing and a Tug-A-Truck competition throughout fair week.
Fair manager Steve Schulte said the stunt cyclists will perform between heats of the always-popular demo derby.
"There will be basically no down time," Schulte said. "It will be nonstop action for hours."
The marriage of stunts and destruction will be held on the fair's final day, Thursday, to send the fair out with a bang, the manager said.
Motocross racing and the Tug-A-Truck competition were brought back after debuting last year. Schulte said both were a big hit.
Kenny Kidd, a regular entertainer at Put-In-Bay, will be performing in the beer garden for three nights.
"If you want to see an unbelievable piano player, check out Kenny Kidd," Schulte said. "He's spectacular."
Schulte said Poor Jack Amusements out of Cambridge City, Indiana, will be back this year providing the rides for the midway.
"Poor Jack is back this year but will bring some different rides that they didn't bring last year," he said.
He also advised visitors to take advantage of the Free Lunch Hour available Monday through Thursday. Visitors can come to the fair after 11 a.m. and if they leave before 1 p.m., they will be refunded their cost of admission.
"It's a nice way to get to eat fair food and not have to pay to get in," he said.
Livestock entries, including hogs, cattle, goats, sheep and poultry, are up in numbers again this year.
"There's so many that we're almost out of room," Schulte said. "It's a great problem to have."
Participants are doubling or tripling up tack space in order to have more stalls for animals, he said.
"If I have to build another barn to accommodate all the entries, that's a good thing," Schulte said. "It means there are more kids and families participating in the fair."
The heat may pose a threat for the animals, but Schulte said everyone will do their best to keep the animals cool and healthy.
"We will keep plenty of fans on the animals and keep their water fresh," he said.
Wright State University-Lake Campus Collegiate 4-H Club will conclude the week with the Tractor Twist Finale Dance on Thursday. The event offers line- and square-dancing lessons open to the public.
"It's just a way for people to say, 'hey we had a good week, now let's go in and have a little dance,' " Schulte said. "From what I've heard, the community is pretty excited."
A full schedule of events can be found at
www.mercercountyohiofair.com
.
Schedule:
Today
• 3 p.m. - opening ceremony at front gate; rides open
• 5 p.m. - Go Kart hot laps
• 6:30 p.m. - cakes, pies and produce auction
• 7 p.m. - Go Kart Grand Prix races; horseshoe tournament
• 8 p.m. - music by DJ

Saturday
• 9 a.m. - horseshoe pitch
• 10 and 11 a.m. - baby contests
• 1 p.m. - rides and games open; horseshoe tournament; baby contest
• 2 p.m. - pie contest; baby contest
• 3-9 p.m. - Joy Unspeakable
• 4 p.m. - Tug-A-Truck
• 5 p.m. - fair princess, wee miss, little miss, junior miss, prince, wee mister contests
• 7:30 p.m. - talent show
• 8 p.m. - Kenny Kidd