Friday, August 12th, 2011
Family, volunteers prove CPR makes a difference
By Margie Wuebker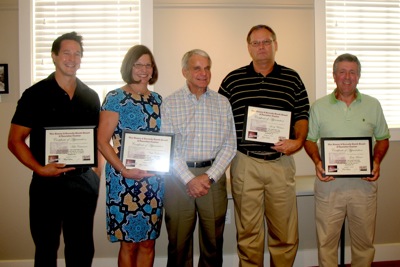 NEW BREMEN - Max Cotterman was cutting wood in his backyard on June 4 and came inside after suddenly feeling "poorly." He planned to rest and then mow the lawn.
"Max complained of chest pain and said he wanted to take a shower before we drove to the hospital," said his wife, Vickie Cotterman. "He did not want me to call 911 for an ambulance."
As Vickie Cotterman called the couple's son, Mike Cotterman, to come to their home, she heard the sound of a thud come from the bathroom. She found her 62-year-old husband lying face down on the floor. Bracing herself against the wall, she managed to turn him over and start CPR.
The owner of Cotterman and Company wasn't breathing.
"Max always believed in the importance of CPR and made sure all his employees knew how it should be administered," she said. "I learned along with the employees but I never needed it until that moment."
Mike Cotterman arrived and took over chest compressions while Auglaize County 911 dropped emergency tones regarding a possible heart attack. Neighbor Larry Wissman, a volunteer driver for New Bremen Emergency Medical Services and a retired firefighter jumped on his all-terrain vehicle after hearing the radio message. He stopped long enough to pick up fellow neighbor Greg Maurer, a retired EMS member, before speeding to the Cotterman home.
"Max was not doing well," Wissman said closing his eyes as awful memories returned. "He was blue, had no pulse and no response whatsoever. I looked up at Greg and shook my head as we took over CPR."
Moments before the call, New Bremen emergency squad members had been going about everyday activities - Michelle Voress was preparing lunch, Jenni Skinner was housecleaning and Linda Emmons was on a motorcycle, heading for a picture-taking opportunity. Dusty Wallace drove the ambulance.
"We learned CPR was being performed as we pulled up to the Cotterman house," paramedic Emmons said. "We quickly grabbed everything that might be needed, called for more help and ran inside."
New Bremen Police Officer Dan Harrod was applying automated external defibrillator (AED) pads when squad members entered the bathroom and quickly relinquished his place beside the prone body. Rescue efforts continued an additional 15 minutes at the scene prior to the speedy trip to Joint Township District Memorial Hospital in St. Marys. Similar efforts continued aboard the emergency helicopter to Miami Valley Hospital in Dayton.
Cotterman survived 91 minutes of CPR and electrical intervention, cardiac catherization and surgery, with no apparent ill effects.
Hospital personnel stopped by his room in the cardiac intensive care unit and later in a step-down unit to see the patient they affectionately dubbed "Miracle Man."
Cotterman honored those family members and volunteers involved in his dramatic rescue Thursday night at a special presentation and dinner.
"I wish I could share with you an after-life experience," Max told the group. "Frankly, I have none. I remember being in the bathroom and then I awakened 17 days later in the hospital."
Brian Anderson, flight paramedic with Life Flight and emergency services outreach coordinator for St. Rita's Medical Center, said EMS crews across the country treat approximately 300,000 victims of out-of-hospital cardiac arrests each year with less than 8 percent surviving.
"Less than one-third of these victims receive bystander CPR," Anderson said. "Effective bystander CPR can double or triple a victim's chance of survival. Without the people who came to his aid, Max might not be with us tonight."
He presented framed certificates of appreciation to Cotterman's wife, son and neighbors for their actions.
Barb Scheer, training center coordinator for the American Heart Association and education coordinator at JTDM Hospital, agreed wholeheartedly.
"The most important intervention in cardiac arrest is immediate CPR," she added. "We have all kinds of equipment and fancy medication, but without bystander CPR the patient is probably not going to make it."
She also lauded AEDs in the field as another life-saving device that effectively delivers a shock to reset proper cardiac rhythm and encouraged people to seek CPR training.
"My husband's commitment to making sure all his employees receive CPR training saved his life, so never doubt the logic in the statement the life you save may be your own," Vickie Cotterman said.
After family members presented a check to New Bremen EMS President John Parlett, she extended a special message to her husband using the words of poet Robert Browning, "Come grow old with me, the best is yet to be."

Symptoms of a heart attack:
Sudden cardiac arrest can happen to anyone at any time, according to Brian Anderson, a Celina firefighter/paramedic, flight paramedic with Life Flight emergency helicopter and emergency services outreach coordinator for St. Rita's Medical Center in Lima.
"Many victims may appear and feel healthy with no known heart disease or other risk factors," he said.
Although sudden cardiac arrest is not the same as a heart attack, many times it can be caused by a heart attack, so it is important to know the signs:
• chest pain or discomfort
• chest pain that radiates to the left arm
• shortness of breath
• pain in the jaw or between the shoulder blades
• nausea, vomiting and copious sweating.
Women can display other symptoms, according to the American Heart Association. They include:
• unusual fatigue
• weakness
• dizziness
• indigestion
• anxiety.
"If something doesn't feel right, listen to your body and seek medical attention," Anderson added. "Lastly, use your local emergency medical services squad. Don't drive yourself to the emergency room or have someone drive you."
- Margie Wuebker