Monday, August 15th, 2011
Luebke's Ohio Homecoming
By Gary R. Rasberry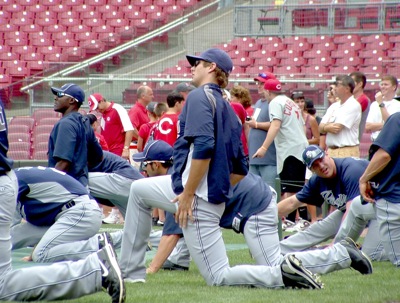 CINCINNATI - As Cory Luebke came onto the field at Cincinnati's Great American Ballpark on Saturday afternoon, he felt at ease.
When asked if he felt he would ever get to play in the ballpark of a team that he used to watch at old Riverfront Stadium during his younger days, the San Diego left-handed pitcher was honest.
"I'd be lying to you if I ever said that would happen," said Luebke in the Padres' dugout before Saturday's game with the Reds. "I just take it a step at a time. Hopefully, I'll get a few more chances to play here."
This weekend was a bit of a homecoming for the Marion Local High School graduate and former Ohio State standout pitcher. Since getting called up to the Padres last September and through his first full year of big league ball, Luebke has traveled all over the country.
Cincinnati is home territory, just under three hours or so from the Marion community and Mercer County. That meant no shortage of friends and family had made the trek this weekend down to Cincinnati.
"I was out there during (batting practice on Friday) and amazed at the amount of people I saw from home that made the trip. It was a fun day, seeing some people I haven't seen in a while."
Fans' getting to see Luebke close up has been a rare occasion with his playing for the west coast-based Padres.
"I do enjoy playing on the west coast," said Luebke, "But it's always good to come back here and get a chance to catch up with everybody and see how everybody's doing."
Luebke is appreciative of the support and well wishes he has received all season, from Flyers' fans and those who might have rooted against him back in high school.
"I'm just blessed to have grown up in the environment I've grown up in," said Luebke. "The amount of support people have shown and continue to show. Even guys I play with are surprised. They think 'Hey, I thought you came from a little small town. What are all these people doing here'?"
Luebke has been solid for the Padres, especially since moving from the bullpen to his more comfortable role as a starter in late June. Since becoming a starting pitcher, Luebke is 3-4 with a 2.98 ERA. Luebke has struck out 56 batters while walking just 11.
The only thing that could have made his Ohio homecoming complete was to pitch against the Reds, not only to give the hometown fans something to cheer about, but also to try and get a little payback after the Reds nailed Luebke for six runs in the 11th inning of the April 12 contest.
Luebke, however, ended up pitching Thursday at Citi Field against the Mets, walking a season-high four but scattering three hits and striking out eight in getting a no-decision during the Padres' 3-2 win over the Mets.
"I looked at it beforehand and thought 'I'm going to land on that Friday', " said Luebke with a laugh. "It's nothing I can control. It was fun throwing in New York (where he faced another Ohio pitcher in Defiance's graduate Jon Niese). Hopefully down the road I'll get the chance to throw here, but if not, we'll see what happens. It's good to sit in the dugout for a game and be able to watch.
"I haven't forgotten that," chuckled Luebke about the loss to the Reds in April. "I'll get a chance to get them again. That was a matter of me not executing pitches from the start. I learned from it. I definitely got better because of it. I don't know if the season would be going as good as it's going if I hadn't gone through that."
Luebke was staying busy, though, getting a throwing session to prepare for his next start, a rematch with Niese at PETCO Park on Tuesday.
"Anymore, they keep us pretty busy," said Luebke. "During the week, 7 p.m. games, we get to the park around 1:30 p.m. Between doing rehab with the training staff (to keep loose) and lifting with our strength and conditioning coaches, getting our conditioning in... pretty much eats up (the time before) game time every day. It's that and the game. It keeps us busy."