Friday, August 19th, 2011
Great weather, great fair
By Jay Clouse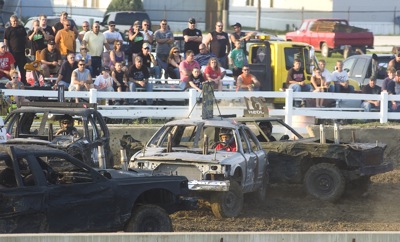 With only one day of poor weather, the 159th Mercer County Fair went off nearly without a hitch, according to fair manager Steve Schulte.
Presale tickets and passes were down $2,281 from 2010 but the gate totals ended up $5,804 over last year, Schulte reported this morning.
"I attribute a lot of it to the weather; we had good weather this year," Schulte said. "Part of it is also due to us making progress as a fair."
Storms moved through the area late Saturday night forcing visitors to evacuate the fairgrounds and rain continued until Sunday morning, he said. Other than that, visitors experienced six days of moderate temperatures and sunny skies.
Attendance figures were not available this morning, but Schulte expects his goal of 50,000 visitors was met or eclipsed.
"I'm very pleased as fair manager and I believe the board is pleased as well," he said.
Livestock entries were up across the board with more beef cattle in the barn this year, Schulte said, adding that space became limited.
"Those were some good problems to have," he said.
New auction records were set for dairy cow milk, grand goat, grand lamb and reserve lamb at $13,900, $5,000, $2,950 and $1,325 respectively.
"Normally when you see livestock entries grow, you tend to see bigger auction sale numbers as well," Schulte said.
Besides the spot of rain, Schulte reported no other major troubles.
"You can't have a fair and not have a couple bumps in the road," Schulte said. "When the rain came in, we had parking issues with the mud.
"A little bit of that is growing pains. If we didn't have so many cars out here, we wouldn't have a problem with the mud, he said. Parking issues just tell me the fair is growing."
The new headline event, the Big Air Insanity Tour in conjunction with the Smash It demolition derby Thursday night, drew a large crowd. The event attracted 1,500 visitors to the grandstands and pit area, Schulte said.
"I had some reservations at first," Schulte said of bringing the act to the fair. "But it surprised me. We almost never fill the whole grandstands."
Schulte declared this year's fair a success.
"I'm pleased across the board," Schulte said. "We have started planning already for 2012 and bringing an even better fair next year."