Thursday, August 25th, 2011
Fort Recovery native still rocking crowds
By William Kincaid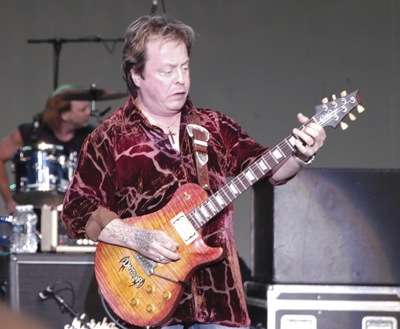 KETTERING - Legislators in Washington, Texas and New Jersey have all rejected adopting an official state rock song from the likes of ZZ Top, The Kingsmen and Bruce Springsteen.
But not in Ohio, where legislators in 1985 designated "Hang on Sloopy" by The McCoys as the state's official rock song.
Former McCoys' guitarist and vocalist Rick Derringer, a Fort Recovery native, had a homecoming of sorts on Saturday night as he performed at the Fraze Pavilion in Kettering as one of the headliners of Hippiefest - a traveling rock 'n roll show featuring the great musicians of the 1960s and '70s.
Derringer, whose work can be heard on his solo records, as well as those by Alice Cooper, Todd Rundgren, Steely Dan and KISS, opened with "Still Alive and Well," a rocking song and apt description of the man who at 64 puts on an incendiary show, as evidenced on Saturday night.
Before playing "The Star Spangled Banner" and "Rock 'n Roll, Hoochie Koo," which included a jaw-dropping Eddie Van Halen-like shredding solo that lasted several minutes, Derringer talked to the newspaper backstage.
Derringer said he was born in a hospital in Celina and lived in Fort Recovery until the eighth grade when his family moved to Union City, Ind. He received a guitar on his ninth birthday and was influenced by a guitar-playing uncle.
Originally born with the surname Zehringer, he is related to Ohio ag director Jim Zehringer of Fort Recovery. The name change to Derringer "came to him in a dream, inspired by a picture of a derringer gun on the Bang label," according to The Encyclopedia of Pop, Rock and Soul.
Asked if he always dreamed about playing guitar for a living, Derringer said his parents were pragmatic - his father John worked for the railroad - and told him that likely wasn't possible.
By age 17, he was playing with his brother Randy, a drummer, in a band eventually called The McCoys after a few name changes.
"We just wanted to play," he said.
Derringer said they played gigs at the Forest Park Arena in Dayton as a backup band for artists such as Chuck Berry.
One night, Derringer said the band played backup for the Strangeloves and learned they were looking for someone to record for them.
"We turned out to be those guys," Derringer said.
The McCoys recorded "Hang on Sloopy" - a cover of "My Girl Sloopy" by soul group The Vibrations - in 1965 in New York City for Bang Records. The company was an offshoot of Atlantic Records, he said.
The song became a smash, and The McCoys toured extensively and played on The Dick Clark Show and Where The Action Is. Derringer said "Hang on Sloopy" was patterned on the original song as his band was into soul, blues and Motown stuff.
"Hang on Sloopy" in the summer of 1965 knocked The Beatles' bitter-sweet acoustic ballad "Yesterday" off the top of charts, a moment that Derringer said really didn't phase him until he saw it advertised on a billboard.
"We're in pretty good company," Derringer said.
Derringer said Beatles' drummer Ringo Starr later jokingly told him he didn't care because he didn't play on either song.
Touring in the mid 1960s was very basic and usually involved a car pulling a trailer, Derringer said.
"Not like these buses out here," he said.
Asked if concerts were as popular then as they are now, Derringer replied that shows were bigger back in the day. Beatlemania was sweeping the country, and people had the chance to see the bands of the day making history.
Nowadays, the public is in someways jaded, Derringer said,
"We've seen it all," he added.
Music was the whole world for a whole group of people back then - it etched itself into people in a different way, Derringer said.
"It became very pervasive in our whole culture," he said. "The Beatles became a real cultural phenomena."
Many bands are popular today, such as Green Day, but somehow contemporary music isn't burned into people's souls and psyches like it was in the past, he said.
"We were at the right place at the right time," he said.