Friday, August 26th, 2011
Local fans root for home team
Celina's Fab 3 finish in 3rd place
By Jay Clouse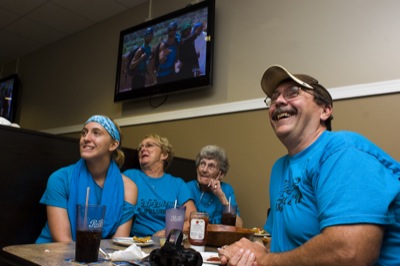 CELINA - Nearly 50 family members, friends and fans of the reality show "Expedition Impossible" gathered at C-Town Wings on Thursday night to root on the hometown contestants during the final episode.
Siblings Kari and AJ Gibson, originally of Celina and now of California, friend Ryan Carillo comprised team Fab 3, which finished third in the competition.
Based in Morocco, 13 teams had to race across deserts, snow-capped mountains and rivers while completing obstacles. Teams were eliminated each week, until only four were left for the final show. Winning $150,000 and 2011 Ford Explorers was team Gypsies.
Despite coming in third, the crowd cheered and applauded the television screens as Fab 3 was shown crossing the finish line.
"What they accomplished is just amazing," the Gibsons' great aunt Susie Eilerman said after watching the show at C-Town. "The only thing they didn't do was win money and a car. Other than that, they won."
Fab 3 spent much of the episode in second place on the coat tails of the Gypsies. However, the team decided to break away and find their own path.
AJ Gibson, who was watching the show in California with Kari and their mother, said what fans didn't see in the final episode was Kari's being thrown from her horse twice, which caused a vertebrae in her back to chip.
"She was screaming and crying in pain all day, and I was in tears worrying about my little sister," Gibson said after the show aired. "I knew she couldn't run all day, so I made a judgment call, and it cost us the competition, but her health was way more important to me than any prize."
Gibson called crossing the finish line "bittersweet" but said the team was just happy to have completed all 10 stages of the expedition.
"The entire process was such an indescribable experience and one I'll cherish for the rest of my life," Gibson said. "We had the opportunity to do things we had never dreamed of."
The Gibsons' stepfather Steve Kuhn, who watched the show at C-Town, thanked the community for its support.
"There's a core of people here who watched with us the whole time and watched the kids grow," Kuhn said. "It's what this town is about - family."
Gibson said he wishes he could share the pride he felt throughout the expedition with anyone who has ever doubted himself or herself.
"Even though Fab 3 didn't win, we finished as a team and we're very proud of that," Gibson said. "Two gay dudes and a girl defying all odds and coming in third place - not too shabby."
He continued, "We often joke that our team name should have been Fab 3rd, but after we laugh about that, we usually start sobbing uncontrollably, so I guess we'll just stick with Fab 3. I think it has a nice ring to it."