Friday, August 26th, 2011
Bulldogs shut out Cavaliers
Coldwater showing continued improvement
By Gary R. Rasberry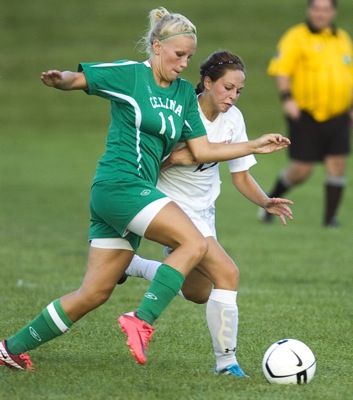 COLDWATER - The difference a year made was noticeable.
Last year at this time, Celina's girls' soccer team dominated Coldwater by scoring six goals in each half for a 12-0 victory.
This year, Coldwater got better but the Bulldogs still improved to 2-0 this season after shutting out the Cavaliers 5-0 at the Village Hall Field. All five of Celina's goals were scored in the second half, with three coming in the final five minutes as dusk settled on the field.
Celina's coach Calvin Freeman knows that Coldwater is an improved team from 2010.
"A completely different team than we had seen last year," said Freeman. "They played well defensive-wise. Their hustle is just fantastic. We had no easy shots."
In the first half Celina had several chances to get the opening goal, but the Cavaliers' defense contested every shot. When a Celina shot got to the net, Coldwater's keeper Krista Wellman made some big saves and got some help from the side post of the goal to deflect some shots out of harm's way.
"I thought we worked hard," said Brinkman. "I told the girls when you're talking about energy, you have to bring as much as you can. (Celina's) skill level is still better than ours. The only way we can compete is to bring more energy. I thought for most of the game, we brought as much energy as we possibly could."
The shutout ended six minutes into the second half as Celina's Lexi Mills took a Taylor Guingrich pass and put it past Wellman with 34:07 left in the match to draw first blood.
"It was like getting the monkey off our back," said Freeman of finally getting the goal. "Everything was either going wide or off the pole. ... Once you crack the vase, it starts leaking. But I take my hat off to Coldwater. They're a much improved team."
With 13 1/2 minutes left to play, Georgi Zizelman's corner kick reached the hands of Wellman, but the ball trickled back into the net for a 2-0 Bulldogs' advantage.
Celina capped off the night with three goals in a span of three minutes during the final five minutes. Hillary Heiby scored an unassisted goal, which was followed by Kari Donovan passing to Guingrich for her first goal of the season. Donovan scored the final goal of the game off a Kaci Stachler pass with just over two minutes left on the clock.
"We went over and watched (Celina) play Findlay on Monday night (a 1-0 win for Celina) and knew they were a talented team," said Brinkman.
Even with the late goals, Brinkman could not hide the pride he had in his team.
"I'm proud of the girls," said Brinkman. "If you told me that at halftime it would be 0-0, I would have taken that in a heartbeat."
The junior varsity game was won by Celina 7-1.
Celina (2-0) heads back home to the Soccer Stadium on Saturday for a prime-time game with Lehman at 7 p.m. Coldwater (0-2) travels to Indian Lake to face the Lakers in an 11 a.m. contest.