Saturday, September 10th, 2011
St. Henry earns first win with stingy 'D'
By Mark Ruschau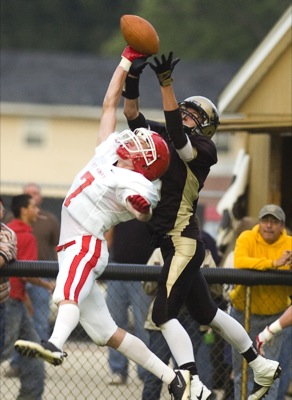 ROCKFORD - The St. Henry Redskins rebounded from a pair of tough losses to open the season by defeating the Parkway Panther 42-13 in the Midwest Athletic Conference opener for both teams on Friday night at Panther Stadium.
"Getting a win is huge," said St. Henry's coach Jeff Starkey. "We played two tough teams in the first two weeks. We played well at times in the first two games but at other times we didn't and that cost us. Tonight we were able to move the ball and make some stops when we needed to, it was a good win to start the conference."
St. Henry's defense was the difference in this game as the Redskins were able to contain the explosive Parkway spread offense. Although St. Henry gave up 13 points in the fourth quarter, the Redskins limited the Panthers to just 267 yards on 56 plays.
The Redskins' defense came up huge when they had to as they stopped Parkway's offense twice inside the Redskins' 25-yard line in the first half and also on the Panthers' first drive of the second half.
On the first drive of the game, Parkway moved the ball to a first down at the St. Henry 22 but Alex Post came up with a big play on third down, sacking quarterback Riley Bransteter to derail the drive.
On its second series of the game, it was Post again who came up huge defensively as he sacked Bransteter for a two-yard loss. After an incomplete pass, St. Henry's Steven Luttmer stopped Jarrett O'Neil for no gain on third down. On fourth down, St. Henry's Nathan Uhlenhake stopped Bransteter for no gain, turning the ball back over to the Redskins' offense.
On St. Henry's first trip of the second half, disaster struck as Jordan Osterholt coughed up the ball and it was recovered by Parkway's John Rollins at the Redskins' 34-yard line. St. Henry's defense forced two incomplete passes and Luttmer sacked Bransteter for a 12-yard loss.
"The first half was tough for us offensively and then we turn the ball over downs when we got that fumble to start the second half," said Parkway's coach Dan Cairns. "We struggled on the line of scrimmage tonight. I think St. Henry got the best of us and that was the difference in the game."
"It was bend but don't break for defensively in the first half," said Starkey. "We made some plays defensively and were able to get some stops deep in our territory. It was good to see our kids play with some emotion and energy and have some fun playing football."
Offensively, St. Henry was hitting on cylinders as it scored on six of its 11 possessions. The Redskins' offense showed balance rushing for 201 yards on 43 carries with two scores. Sophomore running back Jordan Osterholt led the way with 104 yards on 24 carries.
Junior quarterback Kyle Stahl had a very productive evening by completing 14-of-21 through the air for 203 yards and four touchdowns. Alex Post had five catches for 104 yards and two touchdowns, Matt Osterholt hauled in four passes for 49 yards and a score and Kent Stammen chipped in with three receptions for 41 yards and a score.
"We need to have balance offensively, no doubt about it, we just can't line up and throw the ball on every down. That won't be very effective for us," said Starkey. "We have a young back in Jordan Osterholt. Tonight was the first time that he got a lot of carries. He ran the ball hard and he hit the hole hard. All the linemen we had in there did a great job of blocking for him."
St. Henry returns home on Friday to take on rival Coldwater while Parkway hits the road to battle the undefeated Versailles Tigers.