Friday, September 16th, 2011
Marion Local rallies after losing first game
By Ryan Hines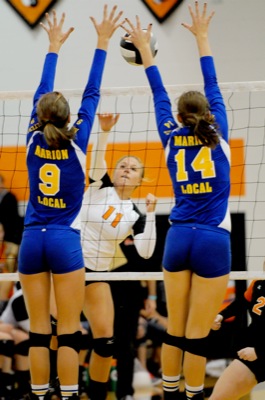 COLDWATER - Marion Local's volleyball team overcame a loss in the first game to win the next three in a 23-25, 25-20, 25-15 and 25-13 victory over Coldwater in Midwest Athletic Conference action at The Palace on Thursday night.
The Flyers improve to 5-1 overall and 3-0 in the MAC while Coldwater falls to 6-4 (1-2 MAC).
Coldwater's head coach Mike Etzler devised a gameplan to frustrate Marion Local, and it worked for the first game and a half before the Flyers adjusted and took control of the match.
The Cavaliers led nearly wire-to-wire in game one thanks to a balanced hitting attack that featured Macy Reigelsperger, Kelsey Rammel and Brooke Welsch. Marion Local also committed 11 unforced errors in the first game, including five service miscues that helped the Cavs earn a two-point win.
Coldwater rode the momentum of the win in the first game to tie Marion Local at 13-13 when the Flyers' adjustments started to pay dividends.
Back-to-back stuff blocks by Margaret Wuebker and a kill by Claire Heitkamp put the Flyers on top 16-13. The Cavaliers never got closer than two points the rest of the way as Marion Local tied the match after a five-point win in game two.
"We went in with a game plan and did what we wanted to do against them for the first game and part of the second game. You have to serve them tough and get them off balance on offense," said Etzler. "We just couldn't match up with them after they made their adjustments and we didn't adjust. They are a very good team."
"I didn't like some of the matchups that we had during the first game and for part of the second game, so we made some changes and I think it helped get us back on track," said Marion Local's head coach Amy Steininger. "When we got the ball to our hitters we did a good job of finishing the play, but we struggled in the first game and a half in our passing. Coldwater played harder and with more passion than we did early on and it showed."
Marion Local was nursing a 9-8 lead in the third game before the hitting and blocking of Wuebker and Heitkamp took over. The Flyers scored 13 of the next 17 points in the game to take a commanding 22-12 advantage before settling for a 25-15 victory.
The Flyers didn't let up in game four as a 12-10 lead blossomed into a 24-13 advantage after Marion Local scored 12 of the next 15 points.
"In the final two games, they really served us tough and made it tough at the net for us with their front line of blocking," said Etzler.
Wuebker played a strong all-around match with 10 kills, five blocks and 12 digs for Marion Local while Heitkamp added 14 kills and three blocks.
"Our middles did a great job tonight and changed the way that they were attacking against us," said Steininger. "We picked up our play across the board in the final three games."
Reigelsperger led Coldwater with 11 kills while Emily Kahlig added six kills with Welsch and Rammel contributing five kills apiece.
Marion Local hosts Huron on Saturday while Coldwater returns to action on Tuesday at New Bremen.