Friday, September 16th, 2011
Tasers offer another line of defense
By Margie Wuebker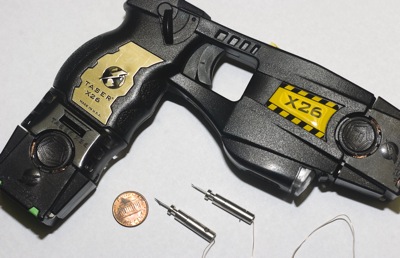 Many law enforcement officers in Mercer and Auglaize counties wear two holsters - one for a weapon of deadly force and the other for a Taser stun gun.
A Taser delivers an electroshock through two small dart-like electrodes attached to a conductive wire. A person who is "tased" experiences immediate pain and loss of muscle control for up to five seconds. No permanent harm is rendered on the recipient.
"Tasers increase the odds of an officer going home uninjured at the end of a shift," Celina Police Chief Dave Slusser said. "The suspect, on the other hand, goes to jail without any lasting after effects."
The National Institute of Justice reported in May that 99.7 percent of people tased suffer no serious injuries. Taser use was linked to 351 U.S. deaths between 2001 and 2008, but no conclusive evidence proved that the electroshock contributed to the deaths.
St. Henry Police Chief Bob Garman requested a Taser after a 2005 confrontation.
An Indiana man stole a first-responder's pickup truck after being involved in an injury accident. He crashed the vehicle near Burkettsville and threatened officers with a box cutter. He lunged at a deputy and was shot with a firearm. He survived the incident.
"Situations in the field can change in an instant," Garman said. "A Taser provides an additional safety net particularly when an officer is alone and backup is minutes away."
Rockford Police Chief Tom May, whose department acquired Tasers in February 2004 just after Ohio State Highway Patrol troopers, said the weapon has a tremendous deterrent value.
"We've never Tased the same person twice," he said. "Folks get the message real quick and they share the experience with friends."
The sight of the drawn weapon or the blinking red laser light it emits usually brings immediate compliance, May said. His department has used the weapon eight times.
"With 6,700 vehicles passing through town each day, many of the problems we encounter involve people from out of the area," May said. "Officers work alone 95 percent of the time so a Taser becomes a safety tool just like a vest, a radio and a weapon. It's like having a barking 110-pound dog riding with you."
Tasers can be deployed successfully from a distance of 10 to 25 feet, which allows officers to take action without coming too close to a suspect who may have a hand weapon or is using physical force. It also allows officers to stop a suspect who may be trying to flee.
Celina Police began using Tasers in 2008. They now have four, which have been utilized 22 times.
Reports show Celina patrolman Mark Burgoon used his Taser Sept. 4. Burgoon was called to assist patrolman Steve Yoder, who initiated a traffic stop at 3:45 a.m. When the suspect became unruly and tried to flee from officers, Burgoon used the Tazer, according to the police report. The incident was captured on a cellphone of a bystander and the incident was posted online.
Slusser said appropriate force was used in that incident.
Each Tazer is equipped with technology that records its use as well as the intensity and duration of the shock. Departments can retrieve that information when investigating an incident.
"We are not using Tasers on law-abiding citizens," Slusser said. "Most arrests proceed in orderly fashion, but there are about 5 percent that do not."
All law enforcement officers who carry Tasers experience the "five-second ride" as part of their training. Each department also has a use of force policy on verbal commands and when and how to use pepper spray, Tasers and traditional firearms.
St. Marys Police have acquired Tasers in 2009 and have used them eight times. Coldwater Police have deployed their Tasers twice and the Auglaize County Sheriff's Office and Minster Police Department report one use. Fort Recovery and New Bremen police departments have Tasers but have not used them.
The Mercer County Sheriff's Office is the only agency in a two-county area without the weapons - due in large part to budget constraints. At $1,100 or more per unit and related accessories, the cost of outfitting deputies is prohibitive at this time, according to Sheriff Jeff Grey.
"They are the kind of weapons you acquire and hope you never need," Fort Recovery Police Chief Jared Laux said. "Unlike pepper spray that affects a suspect, the officer and anyone around, a Taser affects only the troublemaker."