Friday, September 23rd, 2011
Parish celebrates 150th anniversary
By Janie Southard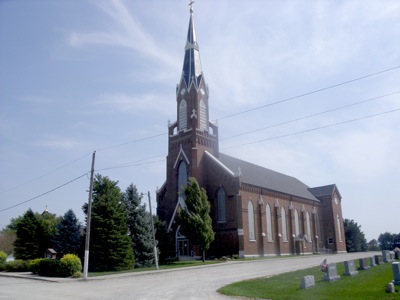 TRINITY, Ind. - The first Precious Blood parish outside Ohio was established in Jay County, Wabash Township, Ind., in 1861. Most Holy Trinity parish is celebrating its 150th anniversary this year.
The parish church, which boasts a 140-foot steeple rising over hundreds of farmland acres in every direction, was designed by local architect Anton DeCurtins, who designed many of the area's cross-tipped churches in the mid 1800s.
"This parish, like many others, was the result of Fr. (Francis) Brunner's drive to tame the wilderness and provide for the growing Catholic population," said Mary Ann Olding, president of Old World Research Company specializing in architectural, archival and historical research. "I think it was a matter of forces all coming together at the same time - Brunner, money, the willingness to build. Brunner was a zealot. It was he who established those early parishes, the first was St. John in Maria Stein."
Brunner's drive, along with the workforce of sisters, brothers and lay people and their thirst for their own church, resulted in this first Missionaries of the Precious Blood (C.PP.S.) parish outside the home state.
Most Holy Trinity was formed in 1861 by German settlers of Wabash Township under the leadership of Rev. Rochus Schuele, chaplain of the Mary's Home Convent, also in Trinity.
"Being deprived of Sunday Mass was unthinkable to the pioneers, but the muck of the swamp, the density of the virgin forest ... hampered the frequency of attending Mass, which was already limited due to the shortage of priests. Often the pioneers had to walk 20 or more miles to attend Mass," Holy Trinity pastor Rev. David Hoying said.
Brunner had purchased 240 acres in Trinity for the new parish in 1852. Three brothers built the convent on the land, and two years later, the "saintly but sickly" Rev. Willibald Willi and a company of four sisters reached the site, according to Hoying.
Assigned to Maria Stein, Willi was young, adventurous, but an invalid in advanced stages of tuberculosis. Nonetheless, he volunteered to "confidently go to Indiana," according to "Not With Silver or Gold," a history of the Precious Blood sisters.
In the first celebration after their arrival in Indiana, Willi included these remarks: "Never forget the designs of God in leading you to this wilderness ... Upon you God has willed from all eternity to bestow the happiness of making a beginning here."
The young priest was much admired by the community for his "cheerful acceptance of sickness and trial," according to the sisters' recorded history.
By winter, the community had nearly exhausted the food supply brought by Willi and the recently planted garden's yield was small. Willi set off with a wagon and one of the brothers as driver on a "begging tour" to the only other convents - Maria Stein, Gruenwald (Greenwood, half mile south of Cassella) and Himmelgarten (Heaven's Garden, between St. Henry and Fort Recovery). The history book says Willi told those at Maria Stein that his health was much improved due to eating cornbread. "I'm really thriving on johnny cakes," he said.
His journey for provisions was a success; but not long after his return to Trinity, he preached his last sermon on Nov. 5. He died in mid December 1854.
"The Maria Stein convent is the sole existing foundation (of these early convents)," Hoying said. "The faith life, family life and farm life, or to speak humorously, the praying, playing and plowing of the area folks have remained strong."

Local pastor shares 1845 letter from German settler:
Settling this part of Ohio was a huge undertaking for the religious community and all pioneers.
As Holy Trinity parish in Indiana was being established in 1854, thousands of German families, most of the Catholic faith, had arrived in northwest central Ohio to tame the swamps and the forests.
An 1845 letter from a local German settler to his family in the old country represents the challenges faced as well as the pleasure in the new country. The letter, whose writer is not named, was acquired many years ago by Minster resident Louis A. Hoying through the courtesy of a German attorney and historian. It was subsequently published in a Minster newspaper in 1979. Here are some excerpts:
"Dear brother, sister, brother-in-law and sister-in-law, We have 62 acres, of this 30 are ready for agriculture and wheat ground and the others is (sic) still growing in wood ... On all our land we do not have a single debt ... There is yet no church. We go to Munster (Minster) to the church from which we are one and one-fourth hour (sic) away.
"I have in the house in which I dwell no other things. The animals I have in the barn, and there I also have a threshing house. Here the speck (bacon-type meat) is not smoked in the house. I have a little house to do that ... We do not eat any black bread. The bread we eat here we bake every day from winter wheat flour, and bacon and meat we have in such quantity that we eat until we are full.
"... The land here is all overgrown with heavy timber. There are trees that are five to six feet thick and seventy to sixty feet tall. Wood here costs nothing. One has to chop it down and burn it to make roads ... I would like to return to Germany to talk to you but not to stay. My taxes on the land and animals comes about to $3 a year, and I have to work two days a year on the post road."
"When you write again then make the address: in Munster, Masser (Mercer) Counte, Ohio."