Saturday, September 24th, 2011
Manning runs wild over Celina
Roughriders' senior rushes for 333 yards and four TDs
By Ryan Hines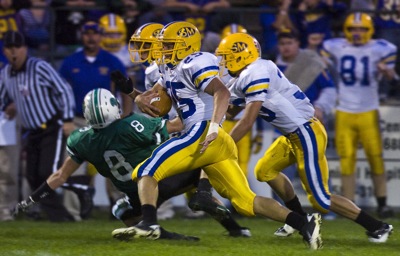 CELINA - D.J. Manning made sure that the St. Marys Roughriders returned to the winning side of the Battle of Grand Lake rivalry football game.
The Roughriders' workhorse senior running back carried the ball 36 times for 333 yards and scored four touchdowns to lead St. Marys past Celina 32-20 on Friday night in Western Buckeye League action at Celina Stadium.
"It feels great to win this game because I missed all of last season (broken collar bone) and it just feels great to beat our biggest rival," said Manning. "No better feeling than beating your rival. Nothing like it."
Manning now has the top two rushing performances by a St. Marys' running back in school history after setting the school record in the opening week of the season with a 355-yard performance against Sidney. Manning has rushed for an astounding 1,237 yards this season through just five games.
"Our line did a great job blocking for me. They made the holes and I just tried to run hard," said Manning.
Manning's big-play ability was the difference in this game as his TD runs came via runs of 85 (first offensive play of the game for the Roughriders), 5, 37 and 52 yards.
"He hammers the hole and our offensive line did a good job of opening some holes for him," said St. Marys' head coach Greg Phillips.
It's the third time this season that Celina has surrendered more than 320 rushing yards to an opponent. The Bulldogs have been gashed for an average of 294.4 yards on the ground per game, worst in the WBL.
"Missed tackles were the biggest thing. They did a good job running the ball and we didn't tackle well," said Celina's head coach Jared Rolfes. "We had five sophomores out there (on defense) and they had 11 seniors on the other side of the ball. I like our young guys, but we just lack experience right now and we are lacking consistency."
Despite Manning's huge night, Celina held a 20-16 lead entering the fourth quarter after a pair of third-quarter touchdowns that erased a 16-8 halftime deficit. Celina's quarterback Braden Billger had a two-yard rush for a score and then hooked up with Craig Welker on a six-yard touchdown pass to seize momentum for the Bulldogs entering the final 12 minutes of the game.
Celina's momentum on offense fizzled in the fourth quarter as the Bulldogs had a pair of three-and-out possessions and a four-play drive that ended on a fumble.
Meanwhile, Manning had 156 yards rushing and scored two touchdowns in the fourth quarter alone to seal the victory for the Roughriders, who have now won 12 of the last 13 matchups against the Bulldogs.
"We felt that if we could just continue to lean on the running game that we could break a long one and when you can get #25 (Manning) in the secondary, he is gone," said Phillips. "We just kept pounding it and it worked out for us."
It was an inconsistent night on offense for Celina.
Billger misfired on five of his last eight passes of the game and finished 29-of-43 through the air for 257 yards with two touchdowns and one interception. Braelen Bader caught 12 passes for 113 yards with a touchdown while Derek Waterman snagged seven balls for 56 yards.
"We did not play well offensively tonight. We really struggled to run the ball and we just weren't in sync on offense," said Rolfes.
Celina will travel to Van Wert next Friday in a battle of the WBL's two winless teams at Eggress Stadium while St. Marys hosts Defiance at Skip Baughman Stadium.