Monday, September 26th, 2011
Tigers edge Blue Jays for title
Midwest Athletic Conference Golf Tournaments
By Gary R. Rasberry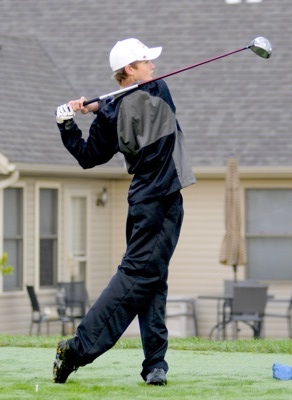 CELINA - Fort Recovery's Jared Kahlig weathered the wet conditions on Saturday at The Fox's Den and captured medalist honors with a 3-over 75 to win the 2011 Midwest Athletic Conference boys' golf tournament.
With a cold rain greeting the players as they took off from their shotgun start, Kahlig was able to battle through after starting on hole 16.
"It was raining off and on," said the Indians' senior. "I pulled out the umbrella when it (rained). It wasn't bad. It didn't affect me. My grips were pretty dry. It feels good."
The battle for the overall team title looked as though it would come down to regular season co-champs Minster and Versailles. The Wildcats had a rare rough day on the links and finished fourth in the team standings with a round of 351.
Versailles and St. John's both finished with a team score of 342. The tiebreaker went to the score of the fifth golfer and Versailles' Tyler Drees' 93 was four strokes better than the Blue Jays' Isaac Klausing as the Tigers won the tournament title and overall championship. Parkway finished third in the tournament with a 347.
Despite the rain, two other golfers were able to break 80 on the day, a year after only one golfer performed the feat. New Bremen's Darin Bergman was runner-up of the tournament with a 78 while Parkway's Brian Schatzer finished third with a round of 79. Rounding out the top five were Versailles' Trevor Phlipot and Delphos St. John's Cody Kundert, each finishing with an 80.
Schatzer's round was good enough to catapult him to the top of the All-MAC team, earning enough points throughout the season and in the tournament to win MAC Golfer of the Year honors with 149 points. Bergman finished four points back of Schatzer with a 145.
"It feels good. I'm glad to do it as a sophomore," said Schatzer. "Hopefully, I can get it next year and the year following. That would be good.
"I should have done better on the back (nine). On the front, I was tearing it up. On the back, I was a whole different person. I was hitting all bad shots. I'm proud of my season. Glad what I did."
Schatzer, Bergman, Kahlig, Kundert and Phlipot were joined on the All-MAC first team by St, Henry's Nate Clune, Minster's Austin Fischer, Parkway's Jordan Bollenbacher, St. John's Nick Kayser, New Knoxville's Tyler Shreve and Marion Local's Danny Liette and Reggie Wendel.