Monday, September 26th, 2011
Minster's girls roll to 22-stroke victory
Midwest Athletic Conference Golf Tournaments
By Gary R. Rasberry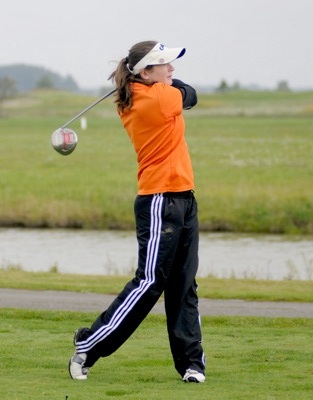 CELINA - Minster made it a clean sweep in the Midwest Athletic Conference girls' golf race after bringing home the tournament title on Saturday at The Fox's Den in Celina to go along with an unblemished regular-season mark.
After starting in rainy conditions that gave way to some sun late in the day, the Wildcats shot a 378, which was 22 shots better than runner-up Versailles.
It's the fifth conference crown for Minster and coach Deb Ahrns, who was happy to get the season sweep.
"This is a team with a lot of heart and deep in talent," said Ahrns. "They had a 370 here (at The Fox's Den) the first match of the season. Considering the conditions and that type of thing, I think they pulled it out."
For Coldwater's sophomore Kelsey Koesters, Saturday was a perfect capper to a strong season. With an 85, Koesters brought home medalist honors from the tournament and held off Minster's Kelly Mueller to win MAC Golfer of the Year honors with 99 points earned throughout the regular season and tournament.
"It was pretty comfortable," said Koesters of the playing conditions. "It was cold and a lot of wind blowing the ball around, but overall, it was pretty good. I thought I played pretty good."
Minster's Claire Fischer was runner-up of the tournament with an 88, followed by Mueller with an 89. Versailles' Brooke Wehrkamp was fourth with a 92 with Tigers' teammate Elizabeth White rounding out the top five with a 95.
Joining Koesters and Mueller on the All-MAC first team were Fischer, Versailles' Wehrkamp, White and Danielle Cochran, Minster's Marissa Conrad and Margo Slonkosky, Parkway's Jennifer Schatzer, St. Henry's Megan Brockman and Morgan Breitigam and New Bremen's Rachel Parker.
The MAC teams, with the exception of Versailles, will be back at The Fox's Den on Tuesday for the Division II sectional tournament. Action begins at 9 a.m.