Tuesday, September 27th, 2011
Gypsies rally in Celina
Recreational vehicle owners gather at Mercer County Fairgrounds
By William Kincaid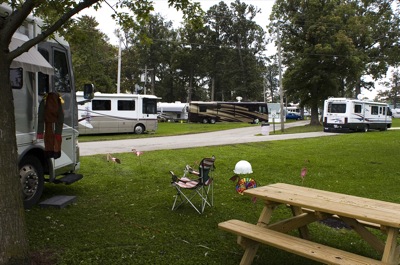 CELINA - Sixty years ago, many Americans likened motorhome inhabitants to carnival folk, gypsies and conmen always ready to get out of dodge if the law encroached on their turf, historian Al Hesselbart says.
The RV lifestyle today is popular with many, from successful entrepreneurs and retired professionals to couples raising their children on the road.
Hesselbart, a historian and archivist at RV/MH Heritage Foundation in Elkhart, Ind., is one of hundreds expected at The Gypsy Journal's Fourth Annual Eastern Rally at the Mercer County Fairgrounds this week.
"Everybody here's business people," Hesselbart said Monday morning at the fairgrounds as vendors congregated.
Fellow motorists will socialize and learn about the lifestyle through multiple presentations and events held through Friday.
"This rally is more of a school than most any other rally I attend," said Hesselbart, who will speak this week about the history of RVs.
Rally coordinator Nick Russell, publisher of Gypsy Journal, said 100 trailers, converted buses and motor homes are registered from as far away as Oregon and as close as St. Marys. Russell and his wife, Terry, live and work out of their 400-square-foot motorhome year-round.
Whether arriving in a converted bus or a $1 million RV, those in the lifestyle come from disparate professions and economic backgrounds but all share an affinity for travel and adventure, Russell said.
Expected at the rally this week are a former cruise ship captain, a retired FBI agent, retired school teachers and nurses and a former NASA computer systems programer who oversaw early shuttle launches, he said.
"I think we Americans appreciate this great country of ours and look for a good excuse to see it," Hesselbart said, adding some don't want to live vicariously through pictures.
Also, with age comes a desire to downsize, he said, pointing out not everybody needs a four-bedroom house and all the stuff inside.
Hesselbart, who was invited by the Chinese government last year to talk about the history and evolution of motorhomes at the largest outdoor lifestyle show in Asia, said the idea of breaking the bond to real estate and land is appealing. People can park their apartment-on-wheels wherever they want.
Russell talked about the freedom of living on the road, such as deciding at a whim whether to go left or right at an intersection. He also pointed out that many in the lifestyle follow NASCAR races, Major League Baseball and Civil War reenactments throughout the U.S.
Hesselbart and Russell agreed that living on the road may be more affordable than people think.
If money is tight, RV dwellers can stay at a campground longer and cut back on driving, Russell said.
Hesselbart pointed out that people can find supplemental income through temporary work. Receptionist work at a national park can provide additional money and a free place to park the RV. Another source of income could be helping with seasonal harvest, like the sugar beet in North Dakota, he said.
Two years ago, the Russells switched from a converted 46-passenger Gray Line bus to a 2002 Winnebago equipped with a washer, dryer, kitchen, custom-installed work stations, Internet-access, shower and many other amenities. The 40-foot-long vehicle gets seven to nine miles per gallon, and the couple averages 10,000 miles per year.
Nick Russell publishes his 36-page journal from the road, as well as writes and sells non-fiction and fiction on the Internet. His wife runs the business and publishes a recipe column.
At the fairgrounds this week, presentations will be held on driving tips, insurance, windshield chip repairs, testing air brakes, preparing to drive to Alaska, blogging and more.
The public can attend any seminar - viewable at http://gypsyjournal.net/Eastern_rally - by purchasing a $5 pass each day at the fairgrounds.