Tuesday, September 27th, 2011
Panthers sweep T-Birds in three
Parkway wins battle of state-ranked teams
By Gary R. Rasberry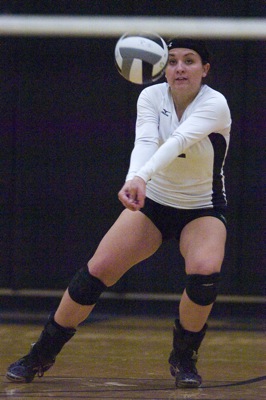 ROCKFORD - The Parkway Panthers used a solid attack and stingy net defense to come away with a three-game sweep over Lima Central Catholic - 25-17, 25-20 and 25-20 - in a Monday night battle of state-ranked volleyball teams at Panther Gymnasium.
The Panthers, ranked eighth in this week's Division IV coaches' state poll, improves to 14-3 on the season while the Thunderbirds, slotted 19th in the Division III state poll, drops to 10-4.
"It was a good win for us," said Parkway's coach Jeff Marbaugh. "LCC is a good team. Good battle for us tonight."
LCC got the first point of each game, but Parkway responded quickly in each instance.
In game one, Parkway broke a 6-all tie with a four-point service run by Bailey King that pushed the Panthers in front 10-6. LCC pulled to within two points a couple of times through the rest of the game, but the Panthers closed out the first game with a five-point service run by freshman Whitney Rollins. Junior Morgan Steinbrunner came up big with three kills and three blocks to help pave the way for the Panthers in game one.
The same formula held up for the Panthers in game two. With the score tied up at 15-all, Rollins again served up a run for the home team to put the Panthers up 19-15. LCC got as close as 20-18 before the Panthers pulled away for a five-point win and a two-games-to-none lead.
The Thunderbirds broke out to a 5-1 lead in game three and pushed that advantage to 14-7 before Parkway began to mount a comeback. Haley Burtch and Peyton Heitkamp each had service runs that cut the Panthers' deficit to 15-14. LCC went in front 18-16 before Parkway's Becca Harshman served up three straight points to put the Panthers on top 20-18.
Rollins later closed out the match with three straight points, including an ace on match point to seal the win for the Panthers.
"We talked about in the huddle coming out and getting a good start, and we did just the opposite," said Marbaugh. "From that point on (down 12-6) we just focused ourselves again and started making the plays we had to make. Just playing aggressive. That's what we have to do. We have to stay aggressive. Serving is a part of it. We had some good serves down the stretch."
Steinbrunner finished with seven kills and eight blocks to lead the way for the Panthers. King added six kills and eight blocks while Harshman, Haley Roehm and Burtch each added six kills. Rollins added 14 assists.