Wednesday, September 28th, 2011
Wellness programs proposed to cut costs
By Christine Henderson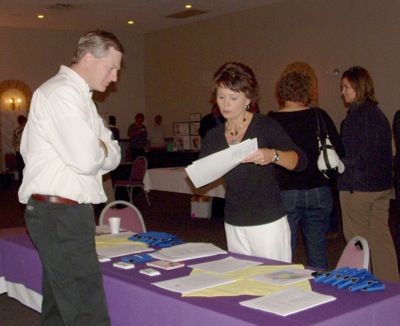 CELINA - Companies can save money by getting employees to take better care of themselves, according to speakers at a wellness summit in Celina.
While a trend among Americans is unhealthy behaviors, a counter trend in health insurance coverage is adding wellness programs, speakers indicated at the Tri County Worksite Wellness Summit on Sept. 21. The West Central Ohio Regional Health Care Alliance organized this workshop with speakers from the health insurance industry.
"No one cares about being healthy. Sixty-five percent are overweight," said Richard Siegenthaler II, president of Integrated Wellness Solutions, which administers wellness programs. "This has changed the scope of health insurance, because we are a mess. Employers will continue to have high insurance rates, unless there is a commitment to wellness."
The yearly insurance cost for a smoker averages $1,409 more than a nonsmoker, he said.
"Personal behavior is costing companies," Siegenthaler said. "Health care is the number two cost for companies."
The 20 percent average of catastrophic illnesses in an employee pool is costing 80 percent of health insurance outlay, noted Diane Oliver, worksite wellness sales manager for HealthSpan.
Dr. Paul Kolodzik, worksite program medical director of Wellness Strategies and Solutions, said an overweight person costs $712 a year more for insurance, an obese person $1,153 and an extremely overweight person $1,748.
Businesses are spending about 18 percent of the U.S. gross domestic product on health care, while many foreign countries spend 6-7 percent, Kolodzik said. This impacts American companies' ability to compete globally.
Medical expenses also are the number one reason for U.S. bankruptcies, he added.
This former emergency room doctor expects medical costs will continue increasing due to ever developing technology. He also expects a doctor shortage, at least for general practitioners.
The increasing cost of medical insurance "is not sustainable," Kolodzik said. The future choices are the employer and/or the employees will pay more, rationing of health care or fixing the problem, he said.
A wellness program tries to catch health problems before claims are filed and fix the risks before they become serious illnesses, Oliver said. Biometric testing from employees' blood draws determines health status and then facilitators try to motivate staff to improve their numbers over the long term.
"Even if you get employees to stay where they are, the company will save money. You (employer) will get your return on investment," Lisa Krieg, regional wellness coordinator for Wellness Council Of America, said.
A woman normally gains three pounds per year and a man two pounds, she explained.
For a wellness program, the first step is to get employee participation, generally by offering incentives and promising confidentially of health test results.
Siegenthaler said at least 75 percent employee participation is needed for true return on investment.
He further outlined what he considers necessary for a bona fide wellness program: compliance with HIPPA and ADA laws, integration into the health benefits plan, using money as participation incentive, opportunity for everyone to participate, meaningful and measurable results, quantifiable return on investment and individual and corporate reporting of health results. The corporate monthly reports should be on the whole program, not name individuals.
The federal government now allows 20 percent of a health premium to be given as a benefit, Siegenthaler said. This may be paid as incentive to employees meeting wellness program requirements. This amount will be increased to 30 percent in coming years. He also noted the new federal health insurance law makes preventative services free to users.
"If we can keep people healthy, we are saving health care dollars," Krieg said.