Wednesday, September 28th, 2011
It wasn't pretty, but Bulldogs beat Cavs
By Gary R. Rasberry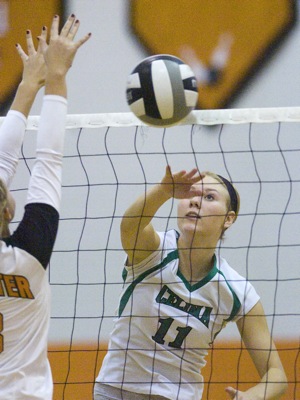 COLDWATER - Although fans got their money's worth from the Celina-Coldwater volleyball matchup on Tuesday, both coaches agreed that it wasn't a thing of beauty.
The host Cavaliers rallied back from down 2-1 to force a fifth game, but they were unable to hold the momentum as the Bulldogs left The Palace with a 15-9 win in game five to take the match three sets to two.
Although happy with the win, Celina's coach Carolyn Dammeyer admitted it wasn't pretty.
"I think both teams tonight were kind of lethargic," said Dammeyer. "... It was just not a pretty volleyball match."
Coldwater's coach Mike Etzler agreed.
"Tonight, it was kind of the battle of the ugly," said Etzler. "Celina looked ugly, I didn't think they played well. And we were uglier. That's what tonight was about. Both teams didn't play with passion. It was who made more errors tonight. It wasn't about who executed."
The Cavaliers got the early momentum with a 25-22 win in the first game as Kelsey Rammel had four kills and Macy Reigelsperger added three kills.
Celina roared back to win the next two games by matching 25-22 margins. Coldwater had been in the drivers' seat in game three, up 21-16, but the Bulldogs' Michaela Wenning served up two aces and won five straight service points to put Celina ahead 22-21. Celina's Lizz Carr got a stuff block to break a 22-22 tie and then Beth Homan and Zoe Kriegel slammed consecutive kills to close the game with the Bulldogs in front two games to one.
Rather than concede in game four, Coldwater jumped out 12-7 with a long service run by Whitney Schaefer, who tallied two aces during the spurt. Celina cut the deficit to 12-11 thanks to a couple of aces by Anna Stammen, but the Cavaliers pulled away late for a 25-20 win to force a fifth game.
Celina jumped out in front 5-2 and rolled to match point at 14-7 before the Cavaliers got back-to-back kills from Rammel and Emily Kahlig. The Cavaliers' night ended with a missed serve into the net.
"We had some hitting errors and net fouls," said Dammeyer. "When we needed points to win at the end, we were serving a little tougher. But overall, I'm happy to have the win."
"We played hard, but we have trouble finishing," said Etzler. "We were up 21-16 in the third game and they win 25-22. We just let opportunities pass us by."
Carr finished the night with 18 kills and eight blocks for Celina. Sara and Beth Homan combined for 23 kills with Wenning adding eight kills and six blocks. Angie Fisher dished out 57 assists.
Reigelsperger and Kahlig each had 10 kills and three blocks, with Rammel adding 11 kills.
Both teams have home league matches on Thursday. Celina takes on Van Wert in Western Buckeye League action while Fort Recovery comes to The Palace for Midwest Athletic Conference play.