Saturday, October 1st, 2011
Minster women stitch their way to Oktoberfest
By Margie Wuebker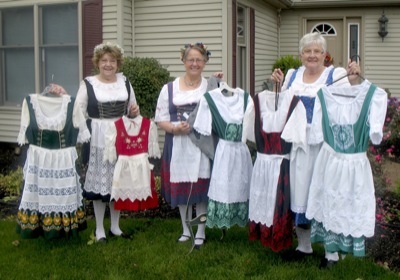 MINSTER - 'Tis the season for embroidered dirndls and lederhosen as residents of this Auglaize County community celebrate their rich German heritage.
Talented seamstresses Diana Hausfeld, Sandy Eilerman and Rita Olberding and members of their families will be dressed in true Bavarian finery for the 37th annual Minster Oktoberfest today and Sunday.
"It wouldn't be the Oktoberfest without our dirndls," Eilerman said, pointing to stacks of colorful costumes she and the others have made over decades. "They put us in the mood even though some festival-goers assume we are the official hosts and hostesses or at the very least part of the entertainment."
Hausfeld made her first costume in 1974 - the year before the festival debuted under the sponsorship of the Minster Kiwanis and the Minster Journeyman's Club (Jaycees). She looked over the attire during a trip to Frankenmuth, Mich.
"I decided I should have one of the dirndls or full-skirted dresses," she explained. "However, I wasn't about to spend hundreds of dollars on just a dress that didn't include a blouse, apron, jewelry, lace stockings or floral headpiece."
Catalogs showed dresses alone cost $175 to $475, and lederhosen averaged $175 to nearly $350 per pair, not counting hats, jackets and suspenders.
Using fabric purchased from Ben Franklin in Frankenmuth, and a tissue pattern from a woman she met there, Hausfeld made a dress before turning her attention to lederhosen with suspenders for her husband, Rolly, and their sons.
"Thank heavens I had a head start or I would not have finished everything," she added with a chuckle. "It takes a lot more time than most people think."
Olberding and Eilerman followed suit in the 1980s, making costumes for themselves and their families. Hausfeld provided cardboard copies of German patterns she had acquired.
Hausfeld and Olberding made annual pilgrimages to Michigan and later to Wisconsin to purchase German fabric in deep reds, royal blues, warm magentas and rich greens. They often took orders from others and returned with 100 yards of fabric or more stowed in the trunk. Eilerman later found a German company online and spared herself trips to Pennsylvania for fabric, imported lace, distinctive bodice chains and jeweled zipper pulls.
"I've made dresses over the years for my granddaughters (Brittany Homan and Megan Heckman)," Eilerman said. "They took first and second place for years in the Oktoberfest costume contest. I even made a dress for one of their dolls."
Embroidering flowers and fancy details are a winter project for Eilerman. She has learned to add side panels for expansion in case the person wearing the costume overindulges in bratwurst, sauerkraut balls, cream puffs and strudel.
"The real problem is pesky gremlins that get in the closet when you aren't looking and magically make clothes shrink," Hausfeld said with a hearty laugh. "We all know about those darned gremlins."
Olberding thinks lederhosen - made of leather or Rindspalt (cow suede) - are more difficult to make than the dresses. The attire also features distinctive black embroidery.
"We wouldn't be caught out on the streets without floral headbands," Hausfeld said as her friends nod in agreement. "They are the easiest part of our costumes and you can always change the look with different ribbon."
During the early years of Oktoberfest, the women became festival ambassadors and marched in parades throughout the state to promote Minster. Like postmen, neither rain nor snow kept them from their self-appointed routes despite wet skirts clinging to their bodies and sodden stockings falling about their ankles.
"The guys didn't particularly care for wet lederhosen," Hausfeld said as Olberding stifled a chuckle. "Those pants dried so stiff we had to beat the heck out of them to get the leather soft again. And no, our husbands weren't wearing them at the time."