Saturday, October 1st, 2011
Bulldogs earn first victory
Celina snaps six-game losing streak against winless Van Wert
By Ryan Hines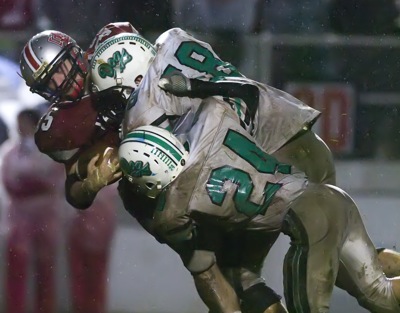 VAN WERT - The Celina football team moved out of the Western Buckeye League basement with their first win of the season on Friday night.
Braden Billger tossed three touchdowns and Zach Hembree scored twice to lead the Bulldogs to a 28-18 victory over the winless Van Wert Cougars at a soggy Eggress Stadium.
Celina snaps a six-game losing streak that dates back to last season and the Bulldogs celebrated a victory for the first time since knocking off Bath 26-20 on Oct. 22.
"We have played with absolutely everybody this year but continued to find a way to lose in all five games. I'm just proud of our guys that they get a chance to celebrate a win tonight," said Celina's head coach Jared Rolfes. "I don't think that we played our best game, but the first win is crucial for us. We learned how to win tonight and hopefully we can build on it."
The Bulldogs looked well on their way to blowing out the Cougars early on as Hembree caught a 15-yard TD pass from Billger, who then tossed a two-yard score to Andrew Moriarity for a 14-0 lead with 4:08 to play in the first quarter.
Van Wert then turned the ball over for the second time in the first quarter when Skylar McCarter scooped up the first of two fumble recoveries on the night.
Celina went for a touchdown on the first play of the ensuing series but Derek Waterman dropped what would have been a sure 32-yard touchdown pass that could have put the Bulldogs on top 21-0. The Bulldogs' drive ended up stalling on the Van Wert 15-yard line when a Billger pass fell incomplete on fourth-and-seven.
The defensive stand seemed to wake up the Van Wert offense, which didn't have a first down in the opening stanza, as the Cougars put together a seven-play drive that was capped when Lucas Sullivan broke loose for a 65-yard TD run with 9:45 to play in the second quarter.
Celina pushed its lead to 21-6 at halftime when Billger found Braelen Bader open on a quick screen pass and the speedy sophomore raced for a 45-yard touchdown.
The Bulldogs seemingly buried the Cougars when Hembree scored on a two-yard touchdown run with 3:12 to play in the third quarter with Celina in front 28-6.
However, Van Wert scored a pair of touchdowns in the fourth quarter while Celina amassed just five yards of total offense in the final 15:12 of the game.
Chandler Adams ran for a 17-yard touchdown and then Sullivan added a 45-yard sprint to the end zone as the Cougars pulled to within 10 points with 4:30 left to play in the game.
The Bulldogs' defense came up big on the Cougars' final two possessions. McCarter recovered his second fumble of the game (Van Wert fumbled seven times and lost three of them) near midfield and the clock ran out on Van Wert's final drive inside Celina's 20-yard line.
Celina's defense played their best game of the season after allowing an average of 36 points per game and over 290 rushing yards per contest through the first five games. The Bulldogs' defenders did allow 245 rushing yards in the game but stopped the Cougars' triple-option rushing attack for zero or negative yardage on 23 of the 57 running plays.
"They got us a few times on some big runs, but outside of that, I thought our defense played pretty well," said Rolfes. "We had a lot of plays we stopped for negative yardage so that was nice to see."
The rainy weather and wet field left the conditions horrible for both offenses. Celina totaled 207 yards of offense with Billger completing 20-of-33 passes for 155 yards and three touchdowns. Sullivan rumbled for 179 rushing yards and two touchdowns but the Cougars were 0-for-3 passing in the contest.
"I found out that our starting quarterback has mono on my way out to practice on Wednesday, so we had a freshman quarterback leading our offense for the first time tonight," said Van Wert's head coach Bob Priest. "I think that he improved as the game wore on but Celina's defense made it tough on him to go along with the wet field conditions."
The 18 points are a season high for the Cougars with the previous best effort being 14 points in a loss to Shawnee in week two.
"We moved the ball much better in the second half and our defense held them to just one score in the second half, but we dug ourselves too big of a hole early on" said Priest.
Celina will look to make it back-to-back wins next Friday with a road contest against the Shawnee Indians (2-4), who have lost their last four games.