Tuesday, October 11th, 2011
Indoor sports complex planned locally
60,526-square-foot facility would be located on U.S. 127 north of Celina
By William Kincaid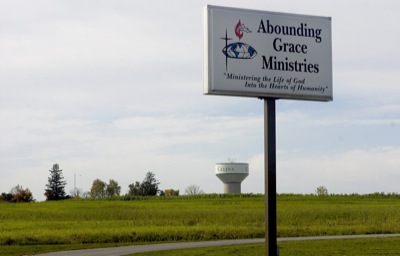 CELINA - An economic development agreement proposed by the city will allow the creation of a new indoor sports facility on U.S. 127.
Council members on Monday night unanimously passed first reading of an ordinance authorizing the mayor and safety service director to enter into an agreement with Matt and Jen Shindeldecker.
The couple plan to construct a 60,526-square-foot building for their new business, Grand Lake Sports Zone, at 7467 U.S. 127, near Abounding Grace Ministries. The couple plan to move their current business, Celina Gym and Cheer, into the new facility, along with housing indoor soccer, roller hockey and potentially basketball and volleyball.
The economic development agreement says the Shindeldeckers must annex the 5-acre parcel into the city, must design the facility in accordance with city planning and zoning requirements, and must obtain a commercial building permit from the state. It also says the city will allow the business to connect to the city's water, sewage and electric systems and grant the entity a 75 percent, 10-year tax abatement.
Celina Planning and Community Development Director Kent Bryan said the business will add employees, as well as generate income and some real estate taxes for the city. He will provide specific details about the number of jobs and amount of taxes expected to be created at the next meeting for council members to consider before second reading of the ordinance.
Councilman Mike Sovinski said he's in favor of the development but questioned how the business is going to connect to utility lines that are 2,000 feet away. Bryan said the business has a deal with the nearby Abounding Grace Ministries to use its existing utility infrastructure.
Bryan said proposed legislation to annex the property and zone it B-1 (general business) will be introduced at the next regular council meeting.
"The B-1 classification is in line with the existing properties and uses near the subject property and represents a good fit," Karen Seibert, secretary of the city's planning commission, wrote in a letter to council.
Matt Shindeldecker recently told planning commission members he and his wife are landlocked at their site on Wayne Street. The new facility would be pursued in multiple phases, he said.
Project designer Carl Huber said he would like excavation for the foundation to start in early November, weather permitting.
The Shindeldeckers have owned Celina Gym and Cheer since 2008, purchasing it from Linda Stott, who started the business in 1972.