Friday, October 14th, 2011
MAC title drought over for St. Henry
By Randy Bruns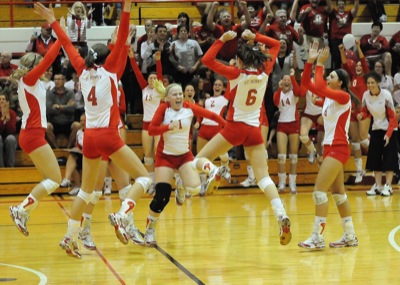 ST. HENRY - As far as droughts go, this one wasn't particularly long, but the St. Henry Redskins were ecstatic to see it end.
St. Henry wrapped up its first solo Midwest Athletic Conference volleyball championship since 2004 on Thursday night with a rapid three-set victory over the Parkway Panthers at the St. Henry Middle School gymnasium.
The Redskins, who have now won 26 league titles, last tied for the crown in 2005, the year in which their amazing 13-year streak of conference dominance ended.
On this night, though, St. Henry had no intention of sharing.
"It was so emotional in here tonight," gushed St. Henry's coach Diana Kramer, who was a key cog in the Redskins' machine as a player a decade ago. "It started with senior night and the seniors being honored. They have played such a pivotal part in our team success this year. But I told the girls before the game that it wasn't just going to be the seniors' show tonight, it was going to have to be a team effort to beat a phenomenal team like Parkway."
Although the match was a quick one, it was by no means a walkover for the Redskins as the Panthers put up a good fight before falling by scores of 25-20, 25-19, and 25-15.
St. Henry ends the regular season at 21-1 overall and 9-0 in the MAC while Parkway finishes at 17-5 overall and 7-2 in league play.
The Redskins stormed out to a 12-5 lead in the first set thanks to five straight service points from Taylor Clune, who smacked a pair of aces in the run. The Panthers finally climbed out of their hole when Becca Harshman delivered four straight winners to pull the visitors to within two points at 17-15. A kill from Abby Brunswick later gave the Redskins a little cushion, though, and after a pair of hitting errors by the Panthers, the hosts had a five-point cushion that was never threatened.
The second set was eerily similar, but this time it was junior Danielle Uhlenhake serving up five consecutive winners to give St. Henry an early 7-3 advantage. Once again Parkway clawed back and forced a 14-14 tie after a block by Harshman and a kill by Haley Burtch.
Clune answered with a kill of her own and when Katie Hoyng followed with a stuff block the hosts were back up by two. Parkway could not put together a rally, and a pair of hitting errors finally provided St. Henry with the final two points of the set.
The Redskins began the final set with another quick burst and took a 5-1 lead. True to form, the Panthers battled back and knotted the score at 7-apiece after a kill by Burtch, but the visitors' momentum was short-lived. Three hitting errors by the Panthers in the span of six points gave the Redskins a 13-8 advantage, and the MAC champs romped from there. Clune put the finishing touch on the Redskins' win with an ace to end the match.
The final point triggered an emotional outburst that Kramer hasn't seen much of from her veteran squad.
"This was the first time all season that I've seen emotion from my girls," said Kramer. "I mean, occasionally we'll get excited, but even when we're struggling we don't show it on the court or when we're doing really well you wouldn't be able to tell unless you looked at the scoreboard. To see that kind of emotion from a team that doesn't show it all the time, it just means that much more."
Fittingly, it was three seniors that led St. Henry's hitting attack. Hoyng notched 12 kills while Brunswick and Ashley Heitkamp each added eight kills. Bailey King paced the Panthers with nine kills while Burtch had seven.
"I give St. Henry a lot of credit because they made some great defensive plays and kept some balls in the air," said Parkway's coach Jeff Marbaugh. "I thought the difference was that we just had too many hitting errors. There were some great volleys and great digs out there, but offensively we just didn't get enough momentum going our way."
Both teams will now turn their attention to the Division IV tournament, which begins next week. Parkway will take on New Knoxville on Tuesday in a first-round contest at Coldwater while St. Henry gets a bye and will face the winner of Tuesday's Fort Recovery/Spencerville contest in the second match on Saturday.

MAC Standings:
Final Midwest Athletic Conference Volleyball Standings
W L
St. Henry 9 0
Marion Local 8 1
Parkway 7 2
Coldwater 5 4
Versailles 5 4
New Knoxville 5 4
Minster 3 7
Fort Recovery 2 7
New Bremen 1 8
Delphos St. John's 0 9