Friday, October 14th, 2011
Coldwater's harriers sweep team crowns
Midwest Athletic Conference Cross Country Meet
By Bruce Monnin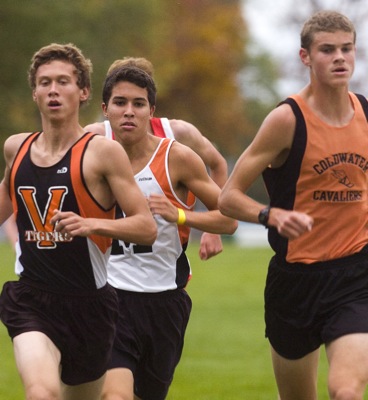 COLDWATER - The Coldwater cross country teams entered the Midwest Athletic Conference meet with high hopes of being the first school other than Minster (which had accomplished the feat four times since 1997) to win both the boys' and girls' team championships.
The Cavaliers not only handled the pressure, they thrived on it as Coldwater won its first boys' title since 2006 and the first girls' title in school history.
As expected, the boys' race was a duel between Versailles' Sam Prakel and Coldwater's Mike Seas. Prakel blazed the course to win and set a new MAC-record time of 15:28.27. Seas finished just three seconds behind and set a new personal record.
It was a balanced effort that led Coldwater's boys to the team championship. Like Seas, Cavaliers' second-best runner John Wenning also shaved 10 seconds off his previous best to finish in fifth-place overall.
"John has been coming on strong all year," complimented Coldwater's coach Dan Pohlman. "Our seniors were spectacular today, and our fifth runner (Jordan Obringer) set a new personal record by over 20 seconds."
St. Henry finished second in the team standings and was led by Aaren Hemmelgarn's fourth-place finish. Minster finished third and was led by the third-place finish by Francis Slonkosky.
The girls' race was similar with the individual title coming down to an anticipated battle between Coldwater's Sarah Kanney and Versailles' Tammy Berger. Kanney needed a strong sprint in the final stretch to ensure her victory by just four seconds over Berger.
Kanney just missed breaking the 18-minute mark, finishing with a time of 18:00.90 (over 20 seconds faster than her previous best). Kanney was not immediately concerned with her time and was more interested in the team result.
"I was more worried about being first (than the time)," she stated. "We have been working hard and have really come far as a team this year."
Coldwater also had the third- and fourth-place runners in Christina Seas and Jill Kanney. Coach Pohlman was quick to point out it took more than just those top three to win the team title.
"Our top three have been there all year. But out fourth and fifth runners were also spectacular, setting new personal records. Lauren Seas (who finished 11th) always comes through at the end and Ashley Schoenherr (13th place) follows her."
This marked the first time since the win by New Bremen in 1994 that the Minster girls did not earn the MAC championship and the Wildcats topped Versailles by a single point for second place. Gabrielle Barga and Hannah Butler led the Wildcats by both finishing under 20 minutes, but second place came down to fifth-place runner Amanda Sherman, who bested Versailles' Jacquiline Moorman by four-tenths of a second for the decisive point.
In the junior high races, the boys' team title went to Coldwater with Dan Seas taking top individual honors with a time of 10:51.20. The girls' title went to Minster with Julia Slonkosky crossing the line first in a time of 12:06.40.
All the local teams (except for Versailles) will be in district competition next Saturday at Spencerville.