Thursday, October 20th, 2011
Dispatchers descend on Celina for training
By Shelley Grieshop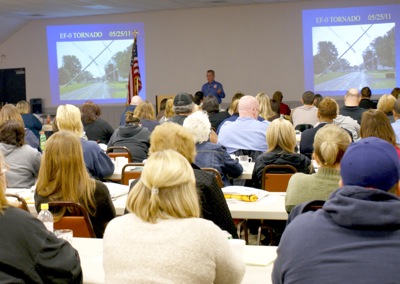 CELINA - Nearly 130 emergency dispatchers from Ohio and Indiana gathered Wednesday to hone their skills, learn new techniques and discuss their high-stress jobs.
The seventh annual Dispatcher In-Service Training Day at the Mercer County Fairgrounds included six sessions on topics such as K-9 call-out, extreme weather and "verbal judo" - how dispatchers handle calls.
The all-day event was free to participants; expenses were paid by the Mercer County Sheriff's Office and the Celina Police Department.
"Dispatchers are hungry for training, but these agencies will tell you it's usually too expensive to send their people to classes," said Monte Diegel, 911 administrator for Mercer County. "If we can do it for free, all they have in it is their time."
Funding cuts have made it nearly impossible for many counties and cities to send their emergency dispatchers to specialized training exercises that can cost up to $200 per day, he said.
Dispatchers arrived Wednesday morning from as far away as Williams, Portage and Hamilton counties in Ohio. Twenty-nine counties and almost 50 different agencies participated in the program, Diegel said.
One of the sessions, pipeline emergencies, was especially interesting to several dispatchers from the Wapakoneta Police Department.
"It was very informational for us since Wapak has a big (natural gas) pipeline running through the city," dispatcher Stacey Armaly said.
The last session of the day on verbal judo was given by Sgt. Paula Strickler of the Lima Police Department, who gave advice on how to remain professional in the most trying of times.
Remaining calm while summoning help in life and death situations isn't easy, said Nikki Sawmiller, also a dispatcher with the Wapakoneta Police Department.
"It (the program) reminded us to think about who we're talking to and what our job is," she said.
Rick McCoy, the EMA director in Van Wert County, joined 911 Coordinator Brandon Redmond of the Darke County Sheriff's Office in a session on extreme weather. McCoy shared impressive footage of the F-4 tornado that struck the city of Van Wert on Nov. 10, 2002.
The large tornado was unusual for the area, he said.
"We mainly have EF-0s to EF-2s. We're lucky in this section of Ohio," he said. "The tornados we have do not normally level homes."
McCoy stressed how important it is for dispatchers to quickly relay the information they receive to the proper authorities. He also explained the numerous and complicated watches and warning advisories issued by the National Weather Service.
"If you get a call that lots of trees are down, there's hail, wind damage ... we need to get that information to the weather service right away," he said. "That helps them warn the people in the storm's path."
McCoy said he sympathizes with the dispatchers who often are kept busy with nonemergency calls from the public.
He also spoke about other weather-related emergencies such as floods and winter storms, when sirens are activated, and the emergency plans most counties already have in place - or should.
Drawing the most enthusiasm from the crowd was the K-9 session. A trio of German shepherds from three area agencies demonstrated drug-sniffing and suspect-tracking abilities.
Jill Steinbrunner, a dispatcher with the Allen County Sheriff's Office, said she learned a lot about the resources available to victims after listening to Deb Hemmelgarn, director of the American Red Cross chapter in Mercer County. She also was impressed by the variety of topics.
"It was a good diverse meeting, an opportunity for continued education," she said. "It keeps the everyday things we do from getting stagnate."