Thursday, October 20th, 2011
St. Marys rolls in postseason opener
Division II Volleyball Sectional at Lima Senior
By Mark Ruschau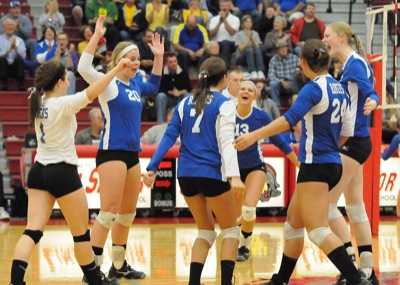 LIMA - The St. Marys Roughriders used a solid team performance to oust the Defiance Bulldogs 25-17, 25-23 and 25-19 in an opening-round match at the Division II sectional tournament on Wednesday evening at Lima Senior High School.
The Roughriders take a 17-5 record into Saturday's sectional final match at approximately 7:15 p.m. against Wapakoneta, which defeated Bath in a five-game battle in Wednesday's nightcap. Defiance bows out of the postseason with a 13-10 mark.
Although first team All-Western Buckeye League hitter Jenny Brown was limited to just six kills, the rest of her Roughriders' teammates picked up their efforts and they found other ways to win the match..
"I was really happy with the way we played as a team," said St. Marys' coach Tricia Rosenbeck. "Defiance did a great job of focusing on Jenny and kind of shutting her down. Usually that is not a good thing for us, but tonight the other girls stepped up their games and we did a good job of picking up Jenny and we did a good job of spreading out sets and putting away the plays when we needed to. This was a big team win for us."
Offensively, St. Marys' setter Joni Brown did a great job of finding outside-hitters Marie Bertke and Kiley Schamp as each recorded five kills. Middle-hitter Lexi Roop added four kills and Haley Hicks chipped in four kills.
The Roughriders used a solid service game to their advantage as they recorded 10 service aces to just four errors, while Defiance had 10 service errors and just two winners.
One final ingredient for the St. Marys' victory was its ability to come up with the big plays when needed as the Roughriders trailed late in two sets and were floundering in the third but managed to come away with wins in all three.
In the opening set, St. Marys led 21-14 before two hitting errors by the Roughriders and a kill by the Bulldogs' Kayle Pasterz cut the lead to 21-17. A service error by the Bulldogs gave the serve to the Roughriders and Schamp promptly delivered three straight service winners to close out the match.
In game two, the Roughriders trailed late, 20-18 but they got a pair of service winners from Schamp to key a 4-0 run for a 22-20 lead. St. Marys was able to hold off Defiance thanks in large part to a pair of Roop kills in the final three points.
In game three, St. Marys again let Defiance hang around, only to close the set by making big plays. Trailing 19-15, the Bulldogs took advantage of thee Roughriders' errors and a kill by Demma Strausbaugh to tie the game at 19-19.
The Roughriders got a huge kill from Roop to give them the lead for good at 20-19 and St. Marys was able to close out the set match by scoring the last five points, fueled by three Jenny Brown kills and a kill by Bertke.
"In game two we were able to push through and win. That was awesome, it was huge to go up 2-0," said Rosenbeck. "In the third game, were tied at 19-19 and I think we just pushed and finished. We did that by keeping the ball in play and making the other team make mistakes. I think Cierra Anderson did a great job of playing in the back row and helping getting the ball back over the net. It is a great feeling to have a player like Cierra back there."