Tuesday, October 25th, 2011
A hero's welcome
Boy honored for saving younger brother's life
By Amy Kronenberger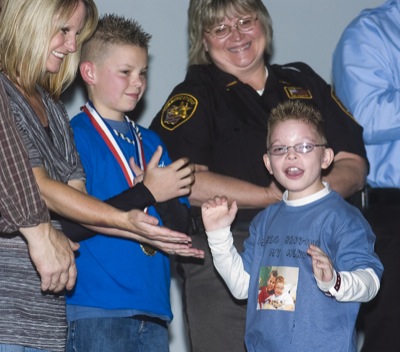 ROCKFORD - Middle and high school students cheered as 12-year-old Jayden Black quietly took the stage at Parkway Local School and was presented a hero medal and T-shirt for saving his brother's life.
Jayden was being honored by the Van Wert County 911 board for his heroism during a time of tragedy.
On July 31, Jayden, his 9-year-old brother Keaton Black and their mom, Kendra Case, were swimming in a pond near their Willshire home when Keaton decided he wanted a different life jacket.
"He was wearing a floatation ring around his waist," Case said. "I could tell he was getting agitated with it, so I walked the 15 feet to the gazebo where the other life jacket was hanging. When I turned around again, Keaton was gone."
Jayden was in another part of the pond and didn't see his brother go under.
"I started screaming to Jay that Keaton was gone, and we spent the next few minutes diving and trying to find him," Case said. "Then I got out to call 911 while Jay kept diving."
The dispatcher wanted Case to stay on the line, so she waded out to neck-depth and felt around with her foot.
"Finally I couldn't take it anymore, so I told the dispatcher I had to go," she said. "I threw the phone to the shore and dove again."
Seven to eight minutes after Keaton went underwater, Jayden felt his brother's ankle during a dive and pulled him up from the eight-foot bottom. He was not breathing and had no heartbeat.
"I helped Jay pull him to shore, and I started CPR while Jay called 911 back," Case said.
Keaton vomited a few times and then EMTs arrived.
"A lot of people tell me they could not have done what I did, but you'd be surprised what you can do, especially when it's your own," Case said.
Van Wert 911 Coordinator Kim Brandt said Jayden calmly spoke with the dispatcher and answered all questions.
"Because of your quick-thinking action and helpful calm nature on July 31, we present you with this 911 hero medal and T-shirt," she said.
When asked if he was surprised by Monday's presentation, Jayden said he knew something was going on because he saw his family, but he didn't know what.
"I think he was a bit overwhelmed when he saw all the high school kids cheering for him," his mom said. "He started to cry a little."
It was the third time in several years the Van Wert County 911 Board has given the heroism award, Brandt said.
"We think Jayden definitely earned this," she said.
Keaton spent 28 days in the hospital, then was taken to Columbus to begin therapy. Doctors predicted 120 days of recovery in Columbus, but he was released after only 21 days, Case said.
He still receives therapy at home for his lungs and breathing but has returned to his base-line health from before the accident, his mother said. He is back at school full time.
"So we've had two miracles," Case said. "One for Jay to retrieve Keaton from so much water, and two for Keaton to recover so quickly."
Case said she and the family are so proud of Jayden.
"He was so mature about it; he just did what he had to do," she said. "Keaton may never remember what happened, but we will never, never forget."