Thursday, October 27th, 2011
Roughriders edge Bulldogs, 1-0
Division II District Soccer at Celina
By Gary R. Rasberry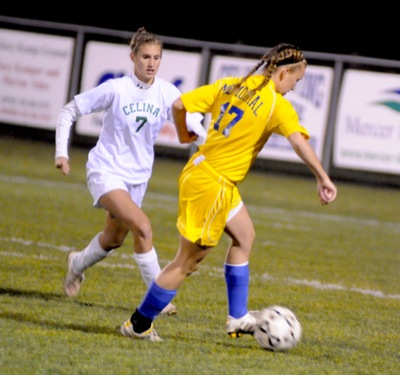 CELINA - A very stingy defense and a well-placed boot by Kelly Heitkamp helped the St. Marys Roughriders advance to Saturday's Division II district final.
Heitkamp scored a goal off a 35-yard boot with 35 1/2 minutes left to play in the match and St. Marys' defense kept Celina from getting the equalizer for a 1-0 win over the Bulldogs at Celina Soccer Stadium on Wednesday night.
The Roughriders (13-1-4) will face Bath, who upset Western Buckeye League champ Shawnee 6-2, at Elida on Saturday with a 2 p.m. start for a berth to the regionals. The Bulldogs end a successful campaign at 12-2-4.
"This means a lot," said St. Marys' coach Paul Dingledine. "They (Celina) don't lose on this field very often. Like Kelly said, to come in here and shut them out (the first time St. Marys has shut out Celina) on their own field is huge for us."
For the first 40 minutes, it appeared that the second St. Marys-Celina girls' soccer matchup was a carbon copy of the first one. In the first meeting, St. Marys scored early in the second half, only to have Celina come back and get the tie with less than two minutes left.
Round two in the Grand Lake rivalry looked to be headed to overtime after a scoreless first half of play. Celina peppered Roughriders' keeper Paige Dicus with five shots in the first half, while holding St. Marys to just two shots, both saved by Elizabeth Laffin.
"Both teams played hard. I think they were evenly matched," said Celina's coach Cal Freeman. "They played hard, we played hard."
As the second half began, St. Marys was looking for a spark and Heitkamp proved to be the catalyst.
Despite being nearly out-of-bounds, Heitkamp kept the ball in play and escaped a Celina defender to get an open look at the goal. From 35 yards out, Heitkamp lofted a deep fly toward the goal that, she later admitted was more of a crossing pass. Laffin was unable to get a good read on it and the ball landed in the back of the net with 35:42 on the clock for a 1-0 Roughriders' lead.
"It picked us up tremendously," said Dingledine. "She said it was a cross, but I've seen so many goals scored this year (like that). She put it in the direction of the goal."
Freeman, who has seen his team stymied by similar goals late this season, could only watch in disbelief.
"You've seen the goal. It is what it is," said Freeman. "Goalie didn't get back in time, went over the top of her. It's the unfortunate part of the game, depending on which side of the field you're on."
Celina tried five shots on goal in the second half, with Dicus needing to make saves on four of them.
If the wind wasn't out of Celina's sails after the goal, the loss of Alex Parker to a knee injury with 12:43 to go, which required her to be carried off the field by stretcher, all but sealed the Bulldogs' fate.
"It kind of lets the wind out of the sails," said Freeman. "The girls tried to pick it up, but there's that pit in the stomach that when you lose one of your best players, (especially) one that was controlling that area (midfield) of the field. They were crying. It's hard, that emotional surge that is there, to be able to refocus that and put it on the field rather than be caught in the emotion. It's tough."
"Kristen Vehorn and Jamie James took charge. They just said 'We're not going to let it happen again.'," said Dingledine of preventing a tying score by Celina. "...They took charge and let the girls know that no matter what it takes, get the job done."