Saturday, October 29th, 2011
Eye doctor found guilty on lesser sex charge
By Shelley Grieshop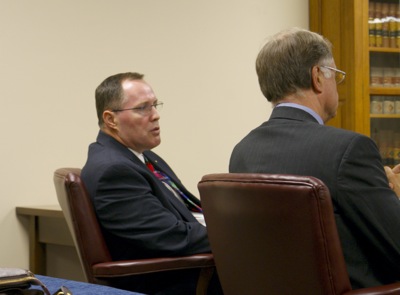 WAPAKONETA - Jurors deliberated 12 1/2 hours Thursday and Friday before finding a local optometrist guilty of sexually assaulting an elderly woman in his St. Marys home in 2009.
Douglas Jay Wine, 52, was found guilty Friday afternoon of gross sexual imposition but not rape, the charge he initially was indicted for in February. Prior to deliberations, the judge told jurors they could consider a lesser offense if they thought there was insufficient evidence for a rape conviction.
Sentencing is expected to take place in four to six weeks in Auglaize County Common Pleas Court. A gross sexual imposition conviction carries a maximum incarceration of 18 months in jail or prison; the rape charge carried a maximum sentence of 10 years.
At sentencing, Wine will be designated a Tier 1 sex offender who must register his address with the county sheriff for 15 years.
County prosecutor Ed Pierce said a copy of the conviction will be sent to the Ohio medical licensing board, which could suspend Wine's optometry license. He currently operates eye care offices in St. Marys and Oakwood.
Wine showed little emotion as the guilty verdict was announced. Also quiet were his wife, children and other relatives and friends who gathered in the courtroom daily since the trial began Tuesday.
Wine's attorney, Ritchie Hollenbaugh, expressed the family's dismay over the jury's decision.
"We're disappointed. It was a very long (deliberation) ... We were confident it would be a not guilty verdict," the Columbus attorney said.
He said the family would not comment at this time.
"It's extremely difficult for them, they're a close family," he added.
When asked if Wine would appeal the verdict, Hollenbaugh said it was too early to tell.
Gross sexual imposition, a fourth-degree felony, is defined as having sexual contact with someone, not a spouse, by compelling that person to submit by force or threat of force. Unlike rape, it does not require an act of sexual penetration.
Pierce said he wasn't disappointed at all with the outcome. He pointed out this was only the second time in almost 30 years that an Auglaize County jury deliberated for more than 12 hours.
"We're satisfied with the verdict," he said.
The victim, a 69-year-old relative from Florida, testified Tuesday that she and her husband had cared for the Wines' children while the couple vacationed in Hawaii for 12 days in early October 2009. She said on Oct. 12, 2009, the night the Wines returned home from their trip, she was asleep upstairs in bed with one of the children when she woke to find Douglas Wine sexually assaulting her by means other than intercourse.
The woman said she feared telling her husband and others about the attack and kept silent for nearly a year. She eventually reported the incident to authorities in November 2010, she said.
Wine also faces felony charges in another case in Auglaize County. In late July, he was indicted on two counts each of rape, sexual battery and gross sexual imposition of a child under the age of 13. The crime(s) allegedly took place between Sept. 1, 2003, and June 1, 2006, at an undisclosed location.
The sexual battery charges identify Wine as the victim's "natural or adoptive parent, or a stepparent, or guardian, custodian, or person in loco parentis," which describes a person who assumes the role of a parent.
He has pleaded not guilty to the charges; no other hearings have been set in that case.