Saturday, October 8th, 2011
Park has more ups then downs
Officials call skate park a positive; believe kids will be responsible
By William Kincaid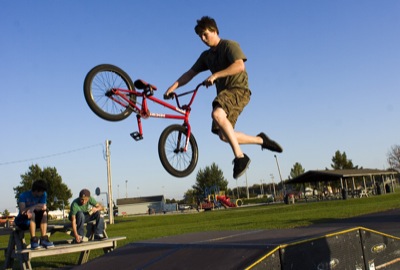 CELINA - Only minor incidents have occurred at skateboard parks in nearby communities, where officials call the facilities positive additions.
Celina city officials are preparing to create their own skate park and believe local skaters will use the area responsibly.
"I think the park's a positive thing," Celina Police Chief Dave Slusser said, adding there may be some "growing pains."
The city intends to build the venue in Mercelina Park near the basketball courts and away from nearby mobile homes, where some residents initially were concerned about noise and criminal activity.
"I like the location because they (police officers) can cruise along Warren Street," city councilman Jeff Larmore said. "I personally don't think it's going to be a problem."
Larmore wants the city to erect a sign similar to one at the Centerville skate park stating alcohol, drugs, tobacco, bullying/fighting, pets, loud music, glass containers, scooters, weapons, motorized vehicles, unapproved advertisements and huge egos are prohibited.
Larmore said council also can enact legislation "with bite in it" to regulate the park if things get out of hand.
Councilman Ed Jeffries said he fears a couple of badly behaved kids may take over the park and usher in a bully system.
The kids spearheading the park idea and sharing their ideas at city meetings seem responsible, councilwoman Angie King said, adding there's no reason at this point to question them.
"Especially with their initiatives in raising the money (for the park)," King said. "I guess time will tell."
Celina Planning and Community Development Director Kent Bryan estimates the park will cost up to $250,000 and will be built in phases. Local skateboarders have raised more than $15,000 and selected the company to design the area. The city will contribute $20,000 in grant money.
With the proposed open layout, police officers, the public and skaters will be able to monitor the facility. Slusser said there are no specific monitoring or enforcement plans yet.
Delphos Safety Service Director Greg Berquist said his town constructed a skate park on a large slab of concrete in Waterworks Park about six years ago.
"One individual thought it would be a good recreation opportunity for the community," he said. "We had a couple public hearings on it as part of the process."
A few citizens objected to the proposal. But once city officials learned Ohio law states municipalities with skateboard parks can't be held liable for injuries incurred there and funding was secured through donations, the park was built.
"Otherwise I don't think the city would have done it," Berquist said about the liability issue. "That was a big selling point."
Some vandalism - specifically spray-painting of ramps, nearby picnic benches, buildings and restrooms - occurred early on, he said. Cameras were installed, and the vandalism stopped.
"We've prosecuted some young adults," Berquist said.
Unlike Celina's proposed park built entirely of concrete, the Delphos facility includes pre-fabricated skating amenities, such as ramps and rails, that now need addressed for wear-and-tear, he said.
The facility was a mecca for kids the first few years, but usage has declined recently, Berquist said, comparing it to a new playground.
Wapakoneta Parks and Recreation Director Jack Hayzlett said his city's skate park was built about eight years ago on unused tennis courts in Veterans Memorial Park. The park was built in two phases - with a third phase proposed for the future - and paid through the city's recreation levy.
"The city didn't like the idea of everyone skating in the areas of downtown," Hayzlett said, adding local teenagers had asked for a park for several years.
Hayzlett said some in the community worried the park would attract the wrong type of kids.
Vulgarity was an early problem since the park is next to a soccer field. Also, some kids used the park to hangout instead of skate.
Signs were put up, and police officers rode by the park ever few hours, especially after school, Hayzlett said. Since then, no major complaints or injuries have occurred other than a broken arm. A few fights occurred at the park but fights also happen on the baseball field, he pointed out.
Hayzlett said he gets calls about suspicious activity every now and then. He will either respond or ask the police to go to the park.
"That's pretty much been the end of it," he said.
Use of the park waxes and wanes but is usually consistent, he said, explaining most of its users are 10 to 20 years old.
"It's something different than what else is offered out there," he said.