Friday, November 4th, 2011
Celina's season ends once again at Ontario
Division II Regional Volleyball at Ontario
By Ryan Hines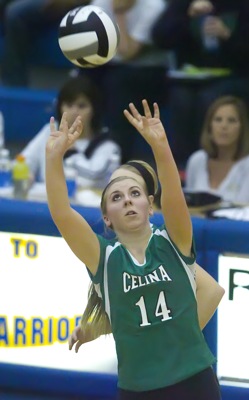 ONTARIO - The tournament trail for Celina's volleyball team usually starts to get bumpy at the regional level.
This year was no different as Celina's season came to a crashing halt at Ontario High School for the sixth straight season when Columbus St. Francis DeSales swept the Bulldogs 25-14, 25-14 and 25-17 in the Division II regional semifinals on Thursday night.
Celina, which is now 1-6 at the Ontario Regional over the last six years, finishes a strong season at 20-7 while DeSales (24-2) advances to Saturday's regional final against Mansfield Madison (25-2).
"It's not the place. It's the extremely good competition that filters in here," said Dammeyer of the Bulldogs' struggles at Ontario. "Every year there are very good teams here and that's the way it should be when you get to the regional level. One of these years it's going to be our year. We won't give up I can assure you of that."
The Bulldogs won the Western Buckeye League and then captured sectional and district titles before exiting in the regional semifinals for the fifth time in the last six years.
"This sucks. We all wanted it so bad, but it just didn't work out for us. We had a great year with so much to be proud of, but it's still tough to lose here again," said Celina's senior middle-hitter Lizz Carr. "We grew as a team from start to finish. We came into the postseason peaking but just couldn't finish tonight."
DeSales played like a team worthy of being ranked fifth in the state in the final Ohio Volleyball Coaches Association state poll.
The Stallions' four-headed hitting attack of Erika Brown (12 kills), Alexa Brown (11 kills), Tyler Craig (10 kills) and Kenya Cason (10 kills) gave the Bulldogs' defense fits all night long.
"I thought our hitters really came to play tonight," said DeSales' head coach Kelly Morgan. "We did a good job of passing to our setter and she did a good job of making it easy for our hitters."
DeSales was tied with Celina at 11-11 when the Stallions' Cason and Alexa Brown ignited a game-changing run. DeSales won eight of the next nine points with Cason blasting three kills and Brown adding two more as the Stallions charged in front 19-12.
Erika Brown had three kills to bring DeSales to match point before a Celina hitting error gave the Stallions a 25-14 victory.
Celina's Beth Homan and Zoe Kriegel each had a kill to give the Bulldogs an early 3-1 advantage in game two but DeSales responded by winning eight of the next nine points to grab a 9-4 lead. Cason and Alex Brown each had two kills to ignite the run.
The Bulldogs' were facing a 15-10 deficit when Celina committed a service error prior to DeSales' McKenzie Cook ripping off four straight service points as the Stallions went on top 20-10. The Bulldogs never got closer than eight points the rest of game two.
"It seemed that every time something good would happen for us, then two or three good things would happen for them," said Celina's senior setter Angie Fisher. "We made more mistakes than we are used to making and they took advantage."
Game three was tight early as Celina's Michaela Wenning and Carr gave the Bulldogs an 8-6 lead. The two-point advantage was the largest lead for the Green and White all night and it didn't last long as DeSales won six of the next seven points to take a 12-9 advantage.
The Stallions added to their three-point lead behind the play of their powerful hitters and DeSales rolled to a 25-17 victory and three-game sweep.
"I think that we had a better showing than what we have had in the past here," said Dammeyer. "We fought hard against a very good team. They were a much better team than I thought coming into this game. They have three very, very good hitters and they did a good job of running their offense through those girls."
The disappointing ending doesn't diminish what the Bulldogs achieved this season.
"I'm not happy obviously, but you always have to be proud of a team that makes it down to the last 16 in the state of Ohio," said Dammeyer. "To do that six years in a row is something special. I know it's tough for the girls now, but they have a lot to be proud of. From a 1-4 start to a regional appearance shows the heart that these girls have."