Monday, November 21st, 2011
Experts argue infant's injuries
Former baby sitter to be sentenced Dec. 20 for 2008 death of baby
By Margie Wuebker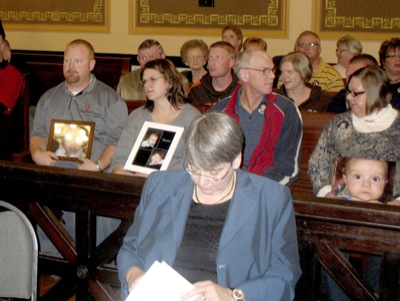 Two medical specialists on Saturday offered differing opinions on the cause of a Mercer County infant's death more than three years ago.
Tamara "Tammy" Evers of St. Henry, a former baby sitter found guilty in the death of Trevor Stammen, will be sentenced Dec. 20 in Mercer County Common Pleas Court.
Dr. Jan Leestma, a pathologist/neuropathologist from Chicago, Ill., and Dr. Elizabeth Gilles from St. Paul, Minn., testified for more than six hours Saturday in Mercer County Common Pleas Court in front of Judge Jeffrey Ingraham and nearly 110 spectators in the courtroom and via closed-circuit televised coverage in the auditorium.
The mitigation hearing was part of a negotiated agreement in Evers' Alford plea of guilty to a charge of involuntary manslaughter and a traditional plea of guilty to perjury.
The first-degree manslaughter charge carries up to 11 years in prison and the third-degree felony could add an additional three years.
Leestma, who spent 10 years as assistant medical examiner in neuropathology at the Cook County Medical Examiner's Office in Chicago and authored two textbooks on neuropathology, maintained Stammen's two skull fractures - one on the left side and one on the right side of the head - resulted from different incidents perhaps days or weeks apart.
He suggested the left fracture, measuring 2 to 3 inches, had been there for some time before the infant's July 8, 2008, death.
"My experience tells me this is a fracture that had been there for a while," Leestma said. "The fracture on the right side is more recent."
The retired neuropathologist maintained the CT scan showed indications of acute over chronic bleeding, which he said supported his new and old injury theory.
"The chronic bleeding did not come into existence in 1 hour and 36 minutes (the amount of time between the 911 call and the infant's arrival at Mercer County Community Hospital in Coldwater)," Leestma added.
He further stated the acute or new blood could have come from a spontaneous rebleed with or without new trauma. The injuries reportedly caused herniation of the brain as well as a large subdural hematoma (blood clot) with damage to the brain stem which resulted in loss of consciousness and respiratory failure.
According to records Leestma received from defense attorneys, Trevor Stammen's mother, Angie Stammen, tripped over a recliner leg rest while carrying her 5 1/2-month-old son on July 4. She reportedly cradled him to her chest as they fell and the only injury appeared to be a cut lip.
The neuropathologist, who has not performed an autopsy since the late 1980s, stressed the importance of taking an accurate history because it can raise questions. He added the original history indicated the baby had received no injuries at the baby sitter's home. However, the history did mention the earlier fall at the Stammen home.
Gilles, the state's expert witness and a pediatric neurologist on staff at Children's Hospitals and Clinics in St. Paul, Minn., has expertise in diagnosing abused children. He agreed a patient's history is vital in determining how an injury occurred. During testimony, she described the infant's injury from the July 4 as inconsequential with a lack of sufficient force to cause occipital fractures at the back of the head - the kind classically associated with blunt force trauma.
Sixteen months after Trevor Stammen's death, Evers told investigators the infant fell from a changing table at her home. Gillis testified Saturday that occipital fractures in an infant are unusual because of the force needed. She expressed doubt that a fall from a height of 32 inches had the velocity to inflict such damage. Leestma testified that a fall from that height could have aggravated an existing injury.
Before Evers' admission about the fall, Gillis had studied reports from paramedics and hospital employees, and she theorized the fatal injuries had occurred around the time of the 10 a.m. 911 call. She noted the symptoms of significant injuries to the brain were not identified at the scene and initially the rescue squad left the Evers home without emergency lights and siren. The baby's condition quickly deteriorated and he was taken by CareFlight emergency helicopter to Miami Valley Hospital in Dayton, where he died on the operating table.
"Two fractures mean two impacts," Gillis said Saturday while reviewing autopsy pictures. "These are fresh fractures and there is no old blood here. This is fresh blood and any color changes occurred as a result of deterioration."
Montgomery County Coroner Dr. Kent Harshbarger found bruising in the child's head - something Leestma attributed to the surgeons performing a craniotomy at Miami Valley - and upper arm contusions as if someone had grabbed the child's limb.
Gillis gave more credence to what Harshbarger saw on autopsy than radiologic studies.
"He was there and had his hands on the child," she said.
Gilles concluded Trevor Stammen was healthy prior to 10 a.m. on the day of the incident and became ill shortly after that time when he and the baby sitter were alone in the home. Children playing outside, including the baby's older brother, reportedly heard Trevor crying through an open window.
Mercer County Sheriff's Detective Chris Hamberg, who headed the investigation, testified that Evers denied hurting the child and successfully completed lie detector testing. He said during testing, Evers said she believed Trevor's parents had nothing to do with his injuries and that there had to be another explanation.
Detectives realized early in the investigation that no one other than an adult would have had the strength needed to cause the fractures, Hamberg said. Until Evers confessed on Nov. 10, 2009, that Trevor fell from the changing table, the suspected timeline - 6 p.m. July 7 to 8:45 a.m. July 8 - seemed to point to the injuries as occurring at the Stammen home.
"So many lies came from the defendant," Hamberg said. "We had an infant who suffered fatal injuries and the defendant claimed nothing happened at her home. We put the Stammens (Brian and Angie) through hell during the course of this investigation."
Lead defense attorney Greg Wilson previously said Evers took the Alford plea in September on his advice. An Alford plea does not admit guilt but acknowledges the state likely had sufficient evidence for a finding of guilty at trial.
Judge Ingraham ordered the state and defense to submit closing statements to the court in writing by Dec. 9 with the deadline for rebuttal set for Dec. 16.