Monday, November 21st, 2011
Marion wins regional title for ninth time in last 13 years
Division VI Regional Final at Wapakoneta
By Randy Bruns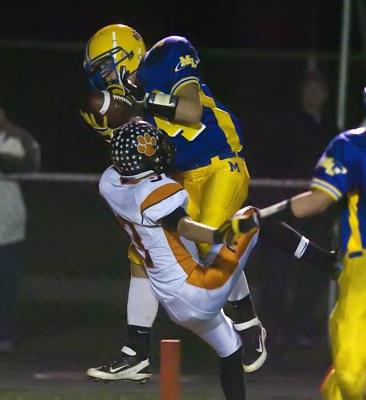 WAPAKONETA - The Marion Local Flyers came into Saturday's Division VI regional final with a bit of revenge on their minds, but they came out with something even better: another regional title.
The Flyers punched their ticket to the state semifinals for the ninth time in the past 13 years with a dominating 28-0 victory over the Minster Wildcats, who had knocked off the Flyers in last year's playoffs.
Marion Local, now 11-2 on the year, will face long-time rival and fellow Midwest Athletic Conference member Delphos St. John's (10-3) on Saturday at Wapakoneta with a trip to the state finals in Canton on the line. St. John's defeated Marion Local in the regular season by a score of 21-14.
Minster bows out of the postseason with a 9-4 mark.
Most of the action was in the first half, which started out badly for the Flyers but ended in spectacular fashion.
On the first play from scrimmage, the Flyers' Adam Bertke's pass was picked off by the Wildcats' Troy Kauffman, giving Minster excellent field position at Marion's 34-yard line. Marion's defense held firm, however, and forced a turnover on downs, foreshadowing a tough defensive battle in the first period.
The Flyers' offense got into a groove late in the quarter, however, and that groove proved to get deeper as the second frame wore on. Taking over at their own 20, the Flyers methodically marched down the field on the strength of Bertke's arm and the dependable legs of Jake Heitkamp. Bertke tossed three passes for first downs and Heitkamp, hobbled with an injured ankle, provided gritty yardage on the ground, culminating with a four-yard score.
Marion then put together another scoring drive after a short punt provided great field position. Heitkamp churned up huge chunks of yardage, gaining 53 yards on just five carries, and once again found paydirt on a four-yard rumble.
After holding the Wildcats once again, the Flyers got one more score late in the half. A third-down completion from Bertke to Lee Pierron kept the drive alive, but it all came down to the final play with just seconds left on the clock. Bertke fired a laser to the end zone and Kellen Goettemoeller stretched out his long frame to make a leaping catch for a touchdown. Pierron's PAT kick was true, giving the Flyers a commanding 21-0 lead at halftime.
"That one was tough to take," admitted Minster's coach Nate Moore of the Flyers' late score. "I thought we had really bowed our backs and had started to step up, but their kid just went up and made a play over our cornerback."
Marion's coach Tim Goodwin saw the play as the perfect lift going into the intermission.
"That was a nice bonus, let me tell you," said Goodwin. "I'm sure it had to be a huge weight on (Minster)."
The Wildcats appeared ready to make it a game on their first possession of the second half. Two fourth-down conversions helped the Wildcats move the ball deep into Flyers' territory, but Marion's all-MAC linebacker Justin Rutschilling stopped the Wildcats' momentum with a thunderous sack on fourth down.
Marion then put things away on its ensuing drive. Despite three penalties for 35 yards, the Flyers gobbled up almost seven minutes of clock on 15 plays, and Bertke put the final points on the scoreboard with a 10-yard scramble.
"You've got to give them all the credit in the world, they're a great football team," said Moore. "They just outplayed us tonight. We did some things well but not enough. They have a great defense and it was tough sledding out there."
Indeed, the Wildcats' offensive statistics illustrate the stinginess of the Flyers' defense, which yielded just 97 total yards and six first downs.
Though Goodwin downplayed the notion of revenge for last year's defeat, he admitted that the bitter loss provided plenty of motivation for his squad.
"I don't think it mattered too much on game night, because once you go out there and get started a game's a game," stated Goodwin. "But you could tell during the week that our players really wanted this one. Our preparation was outstanding, with coach (Brad) Luthman running our scout teams, and they did a great job of getting us ready. It was just an overall team victory."