Monday, November 7th, 2011
Coldwater's girls and boys excel at state meet
Cross Country State Championships
By Bruce Monnin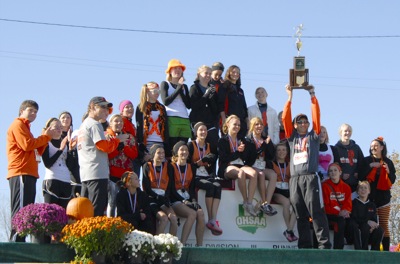 HEBRON - It was a record-setting Saturday for the Coldwater cross country program at the state cross country meet.
Coldwater's girls finished on the podium in second place, a great improvement from its previous-best finish of sixth place in 2009. The Cavaliers' boys made an even greater improvement over their previous-best 10th in 2006 by placing fourth in the team competition.
The Coldwater girls were paced by sophomore Christina Seas, whose time of 18:30 was her personal best for the year. She started out fast and soon found herself trailing only Liberty Center's Brittany Atkinson, a runner who had finished 37 seconds ahead of her at the Tiffin regional meet.
As Seas came down the final stretch, she kept closing on the leader but finished just two seconds behind in second place.
From the way she was closing the gap, it appeared she could have won if the race had been a little longer. However, Seas indicated she had put everything into the race.
"I didn't have much left," admitted Seas afterwards.
So what kept her going?
"Coach was running alongside me yelling 'For the team!'," said Seas.
Freshman Sarah Kanney was the second Cavalier to finish, with a time of 19:10. Junior Jill Kanney was the third Coldwater runner to finish under 20 minutes and her time of 19:18 matched her mark from last year's state meet. Freshmen Lauren Seas and Ashley Schoenherr rounded out the top five with times of 20:17 and 20:26.
Coach Dan Pohlman was happy with his team's performance, which resulted in the first state cross country trophy being brought back to Coldwater.
"It was a team effort and they fought to the end. Sarah wasn't having her best day but she refused to give in. Jill had an exceptional race, passing the girl from Liberty Center at the end," said Pohlman.
Seas was quick to notice that last year's runner-up team, Liberty Center, won the championship this year.
"We have our top five coming back next year," noted Seas. "We are going to want it that much more."
The sixth and seventh runners on the team were senior leaders Leah and Alyssa Brunswick, who had run at five previous state meets between them. Both expressed how much they enjoyed being part of this year's team.
"We all encouraged each other all year," said Alyssa.
Leah agreed.
"Our team is so close. All season we just wanted to run at the state meet together."
Leah mentioned one other motivation the team may have had.
"We wanted to get on the podium to show that Coldwater is not just a football school."
The Coldwater boys returned to the state meet for the first time since the team's 10th place in 2006 and their fourth-place finish was by far their best at state competition. The senior-laden Cavaliers' roster was led by Mike Seas, who in his third trip to the state meet went out in style by setting a personal record of 15:30. That was good enough for a fourth-place finish, the same turned in by now assistant coach David Wilker in the 2005 meet.
The race for the individual title did not take long to sort itself out into a contest among just four runners. Sam Prakel from Versailles pulled away to win with a time of 15:19. Seas came into the final stretch in fourth place, steadily gaining on South Range's Ryan Roush, who kept looking over his shoulder to see Seas gaining on him.
Seas appeared to pass him for third place near the finish line, but the times would show that Seas came eight-hundredths of a second short of claiming third place.
"I was hoping to do a little better individually, but I was mostly hoping to help the team do well," said Seas, who like many of the other runners also expressed his liking for the new state championship course. "It is the fastest course I have ever run. I really like its personality."
Freshman Jon Wenning was the second Cavalier to finish with a time of 16:44, the fastest he had run since the Midwest Athletic Conference meet. Sixteen seconds later, senior Zach Muhlenkamp crossed the finish line, with junior teammate Riley Kuess only four runners behind him.
"It was exciting," said Muhlenkamp trying to describe the race. "I got boxed in a little, and there was a little fighting for spots. That gets my adrenaline pumping."
Senior Jeremy Post finished off his career by finishing with a time of 18:00, the fifth-best time for the Cavaliers. This was only one second slower than his previous-best mark, and he was pleased with his effort.
"It is an amazing feeling. This is the best team I've ever been on," Post stated. "It was a great year. I love running with these guys."
Coach Pohlman had much to be pleased about after the record-setting performances turned in by both of his teams.
"They all put in a great effort. That was history they made. It was exciting for both teams to be in the state championship mix," said Pohlman.