Saturday, December 10th, 2011
Gunning for protection
Area residents take extra precautions for home safety
By Margie Wuebker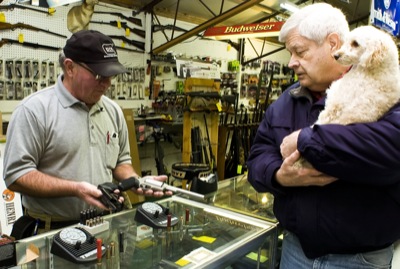 Area residents appear to be locking up, lighting up and loading up as the incidence of burglaries steadily increases and authorities continue to investigate the apparent murders of two Fort Recovery-area residents.
A random check with area businesses indicates clerks are ringing up purchases of such things as padlocks, deadbolt locks, motion- and time-activated lights, firearms and security systems.
Mercer County Sheriff's Chief Deputy Gery Thobe confirmed crime, and burglaries in particular, is on the rise. Deputies have investigated 95 such incidents so far this year, a significant increase from the 54 incidents in 2010.
Investigators have not released a motive in the deaths of Robert and Colleen Grube, who were found bound and shot Nov. 30 at the Burrville Road home they shared. However, they know someone either entered the rural home through an unlocked door or was admitted by one of the victims.
Safety has been on the mind of Fort Recovery Police Chief Jared Laux for sometime. Patrolman Brandon Wyerick attended a recent awareness program at Wright State University-Lake Campus, and the pair plan to compile a safety checklist for local residents.
"I'm hearing from community residents that they are locking up more than they used to," Laux said. "And they appear to be more cautious when it comes to opening doors to strangers. As patrol officers, we often see things from the street that could be done to improve safety."
The planned checklist will stress not only the importance of locking doors and vehicles but pursuing other measures like trimming shrubbery to prevent would-be thieves from laying in wait and installing motion-activated lights.
Jake Unrast, a sales representative at Big Bucks Firearms and Sporting Goods near St. Henry, has seen a definite increase in the sales of handguns during the past 12 to 18 months.
"People talk about what has happened in the area with all the burglaries not to mention the double murders last week," Unrast said. "They don't want to be the next crime victim."
The top seller at the business, located at Niekamp Farm & Flea Market, is the Taurus Judge - a five-shot revolver capable of firing both .410 mini shotgun shells and .45 Colt cartridges. Buyers range from young adults to senior citizens.
"There is no average age when it comes to protecting your home and property," Unrast said.
Buyers must provide a photo ID, fill out a questionnaire and successfully complete a criminal background check. Acquiring a concealed carry permit is a lengthier process involving required classes and application made with the appropriate sheriff's office.
Don Ballinger, president of NuWave Technology in Coldwater, said the majority of clients want security systems to cover all entry points, while others, like farmers, add cameras to protect outbuildings and farm equipment.
"Cost can be a factor, but most people don't place a price tag on peace of mind," Ballinger said. "The events that happened in the Fort Recovery area and elsewhere in the county have increased awareness to a point where people are not likely to slip back into their old ways."
People once left doors unlocked for installers and repairmen associated with Moeller Door Sales. That is no longer the case, according to secretary Sue Kaup.
"We have to tailor our schedules for when they will be home and not when they are away," she said. "Customers seem to be more hesitant given the times."