Saturday, December 10th, 2011
St. Henry takes control in the second quarter
By Gary R. Rasberry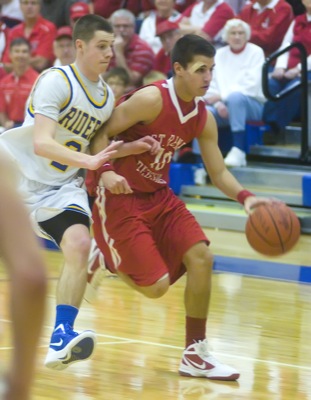 ST. MARYS - An offensive burst in the second quarter and solid defense allowed the St. Henry Redskins to stay perfect on the season following a 73-57 win over the St. Marys Roughriders at Murotech Court in St. Marys.
The Redskins (2-0) took advantage of Roughriders' center J.D. Meyer picking up two early fouls in the first quarter. The Redskins pounded the ball in the post and Brad Stahl had seven of the Redskins' 18 first-quarter points and scored 11 points in the first half.
St. Henry took complete control of the game in second quarter. Mitch Davis came off the bench to hit a pair of three-pointers that helped the Redskins go up by 23 points (44-21) at halftime. The Redskins only turned the ball over twice in the first half compared to nine for the Roughriders.
"The guys understood what we were trying to do," said Redskins' coach Eric Rosenbeck. "With Meyer getting two fouls in the first quarter, I thought that was important. I noticed he had foul issues against Fort Recovery and New Knoxville, so we really wanted to get it in there (in the paint). Kyle stepped up his game and played well getting (Meyer) into foul trouble.
"I think Mitch and Steve (Luttmer) were huge," said Rosenbeck, referring to the two combining for 19 points off the bench. "Especially Mitch, because we had just missed two or three in a row. He comes out and rips two threes in a row."
"We didn't do a good job of attacking the 1-3-1 (defense) and we did not do a good job defending them," said Roughriders' coach Dan Hegemier. "They were two steps ahead of us in the first half. St. Henry's a nice team. They have a good idea of what what they want to do and they do it. We just have to get better."
The Redskins' lead got up to as much as 25 early in the third quarter but the Roughriders' (0-3) Garet Fledderjohann and Austin James began to heat up.
St. Henry helped St. Marys with some sloppy ball-handling. After just two turnovers in the first half, St. Henry committed six in the third and nine in the fourth quarter.
"It's a focus thing. It's every one, including myself," said Rosenbeck. "It happens in practice. We lose focus and we wonder why it happens in games. We need to clean that up right now. It's inexcusable."
"Kids didn't quit," said Hegemier. "We were down 44-21 and the kids could have quit. They didn't quit and kept going. We'll try to practice that hard next week and get ready for next weekend."
Stahl went 9-of-11 from the floor and finished with 19 points to go with 12 rebounds. Alex Post added 11 with Craig Knapke joining Davis with 11.
James was 4-of-8 from behind the three-point line and finished with 17 points, sharing team-high scoring honors with Fledderjohann. D.J. Manning had nine points with Meyer, who played most of the second half with four fouls, finishing with eight.
St. Henry is back home tonight to face Fort Loramie while St. Marys is off until next Friday when the Roughriders open Western Buckeye League play at Kenton.