Wednesday, December 14th, 2011
Flyers take control in second quarter
By Tom Montgomery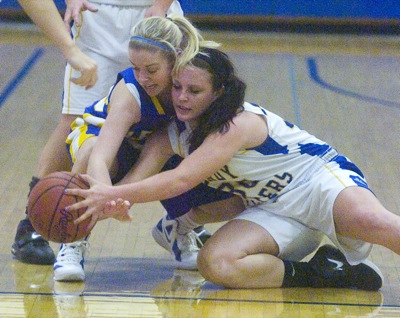 MARIA STEIN - The Marion Local girls' basketball team rode a huge second quarter to coast past Sidney Lehman 61-44 in a game not nearly as close as the final score indicated.
"We figured it would be a rough one when we came over," said Lehman Catholic's coach Gene Goodwin. "They suit up a lot more girls than we do. Plus, Treva (Flyers' coach Treva Fortkamp) has a nice ball club. She's got a chance to go all the way."
The Lady Flyers' early play did little to dispel the praise from Goodwin. The hosts scored the first eight points of the game before a three-pointer by the Lady Cavaliers' Lindsey Spearman at the 3:40 mark finally got the visitors on the scoreboard.
Spearman kept her team in the game by hitting another three-pointer and then scoring off a steal to cut Marion Local's lead to 14-12. However, the Lady Flyers' Chelsea Winner, who led both teams in scoring with 16 points, hit a three as time was winding down in the first quarter to give her team a 17-12 advantage going into the second quarter.
The Flyers (3-0) were an absolute juggernaut in the second quarter, outscoring their guests 26-4 and effectively putting the game out of reach. With a relentless defense forcing a cavalcade of turnovers, the Flyers opened the second quarter with 15 straight points to extend their lead to 32-14.
A pair of Lehman (2-3) free throws made the score 32-14, then a basket by Chelsea Winner and a three-pointer by Darian Bergman extended the Flyers' lead to 37-14. Following a bucket by Lehman's Julia Harrelson, who led her team with 15 points, the Lady Flyers closed the first half with a 6-0 run. Winner's buzzer beater made the score 43-16 at halftime.
The second half gave Fortkamp a chance to rest starters and give some much-needed game experience to the Flyers' bench players. While the Lady Flyers did not look nearly as sharp as they did in the first half, they managed to maintain a more than comfortable lead throughout.
Lehman outscored Marion Local 18-6 in the fourth quarter to make the final score look respectable, but the outcome had long been beyond doubt.
"We played well," said Fortkamp. "We were worried about a letdown after Minster, but we had good defensive energy. We got a little relaxed in the second half, but it was good to have the bench get experience.
"The key was stopping Spearman in the second quarter. (Allie) Thobe did a good job," added Fortkamp. "We had a good transition game. (Margaret) Wuebker didn't even score until the third quarter. I'm proud of our girls. They all played well."