Thursday, December 15th, 2011
Optometrist sent to prison
By Shelley Grieshop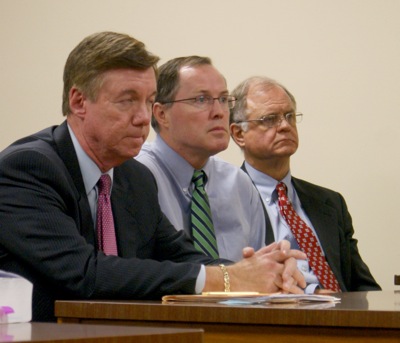 WAPAKONETA - A St. Marys eye doctor will serve 15 months in prison for sexually assaulting an elderly female relative in his home in 2009.
Douglas Jay Wine, 52, showed no emotion Wednesday as Auglaize County Common Pleas Court Judge Frederick Pepple handed down the prison term - three months shy of the maximum sentence for the crime of gross sexual imposition. The judge had the option of sending Wine to the local jail but chose the state prison in Orient.
Wine's wife, Clarinda, sobbed uncontrollably at times during the 45-minute hearing. More than a dozen friends and family members surrounded her in the courtroom. The victim in the case was not present due to the length of travel, county prosecutor Ed Pierce told the judge.
Before sentencing, Pierce requested Wine receive the maximum prison sentence as an "appropriate" punishment. Wine's defense attorneys asked for leniency, citing their client's support from the community and lack of a previous criminal record. Wine spoke briefly, saying, "I would just ask for mercy, your honor."
The judge said Wine exhibited no remorse for his actions and has provided evidence to the court that clouds his continued claim of innocence.
"The statements presented at trial ... present two different men," the judge said. "Even in your denial to the pre-sentence investigator, your writing says, 'I do not think this offense occurred.' "
Pepple labeled Wine a Tier 1 sex offender, which requires him to register his address annually with the county sheriff for 15 years. He also must pay a $5,000 fine and serve five years probation upon release from prison.
Wine's optometry license expires Dec. 31, and he is contesting revocation action by the Ohio Optometry Board, according to defense co-counsel Lorin Zaner of Toledo. Prior to Wednesday's hearing, Wine continued his practice at optometry offices he owns in St. Marys and Oakwood, his attorney noted.
Zaner asked Pepple to stay the 15-month prison sentence and/or allow his client to post a bond to delay incarceration while the case is appealed to a higher court. Pepple denied both requests.
The victim in the case is a 69-year-old Florida woman who claimed Wine raped her - by means other than sexual intercourse - while she cared for his children in October 2009. After four days of testimony and 12 1/2 hours of jury deliberations in late October, Wine was found guilty of gross sexual imposition, not the indictment charge of rape.
Gross sexual imposition is defined as having sexual contact with someone, not a spouse, by compelling that person to submit by force or threat of force. Unlike rape, it does not require an act of sexual penetration.
Wine is expected in court again in a few months for another case accusing him of raping and/or sexually assaulting a girl younger than 13. A trial is set for Feb. 6-10 and Feb. 13 and 14. The charges include two counts each of rape, sexual battery and gross sexual imposition. The first-degree rape charge carries a mandatory term of life in prison because the alleged act was against a child.
The indictment states the crimes occurred between Sept. 1, 2003, and June 1, 2006, at an undisclosed location. The sexual battery charges identify Wine as the victim's "natural or adoptive parent, or a stepparent, or guardian, custodian, or person in loco parentis," which describes a person who assumes the role of a parent.
Wine has pleaded not guilty to the charges; a final pretrial is Jan. 13.