Friday, December 16th, 2011
It's on
Rivalry sparks outdoor Christmas glitz
By Shelley Grieshop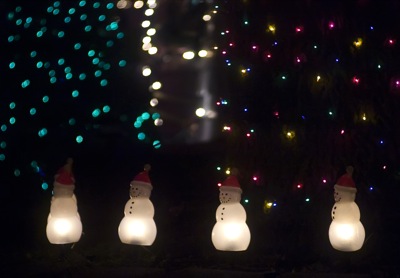 COLDWATER - Blackouts could be looming as residents tangle for first place in the best outdoor Christmas display.
"Use all the outlets you got," advised Brian Welsch, who hopes his Wildwood Drive home snags a top spot in the annual Coldwater Jaycees' contest.
Welsch and his children, Macy, 11, and Josh, 8, get a helping hand with their display from friend Roger Tangeman. Every year the group tries something new, Welsch said.
"We tried the big, blow-up things but it's wide open by my house. A big, strong wind from the west and they're gone," he said.
On Thursday, members of the Coldwater Jaycees will board a bus and cruise the streets to judge thousands of flashing lights, life-size, inflatable Santas and animated reindeer.
"We drive around town for a couple hours, some beverages are consumed, then we vote on the best," Jaycees member Doug Bertke said with a snicker. "It's not a real scientific process."
The top three winners will receive a bottle of wine and several chamber gift certificates.
"More importantly is the sign they get to place in their yard that identifies them as the winners," Bertke said.
Mark Heinl may be the local czar of outdoor decorating. He's taken first place three times in the last five years, although he claims he doesn't compete for the title.
"Two years ago we got second place so I had to check out the winners," he said, revealing his competitive nature.
His desire to transform his Eastview Drive home into a Christmas wonderland began five years ago when his son was stationed in Iraq, he said. Decorating took his mind off the worry, he said.
This year, some of his multi-colored lights are synchronized to music and flash wildly to the beat of 15 holiday songs. The entire display took nearly 30 hours of work and a nod of approval from neighbors, Heinl said.
Like his competitors, his biggest headache is untangling endless strings of lights.
"People always say the only way lights won't tangle is if you don't put any up," he said.
The ultimate moment for Heinl is standing in the yard with his grandchildren when the inflatable characters, candy canes and snowmen come to life. He hopes to create memories for them like the ones he cherishes from his own childhood.
"My dad was really into it. I want to continue the tradition," he said.
Andy Kremer also is carrying on a family tradition. His parents placed first, second or third in the Jaycees contest every year dating back to the 80s, he said.
"We used to compete with the neighbors down the street, a Heitkamp family, I think. Every year we'd put out a little bit more and a little bit more," he recalled.
Now that he's a homeowner, it's his turn to light up the neighborhood at West North and Elm streets, he said. He began working on this year's design shortly after Halloween. He knows exactly how many lights are twinkling in his yard - 17,804 - quadruple the amount he used last year.
"I've got a 100-amp service dedicated to (the display) in the garage," Kremer said. "I think I've got more extension cords than lights."
It's a tricky process deciding which cord to plug in where, he said, adding, "I don't want to burn the house down."
A large star is embedded in his backyard, every tree trunk sparkles with multi-color lights and shiny faux icicles dangle from the spoutings. Strings of lights surround every branch of each tree and bush.
"I have one little crab apple tree with about 2,300 lights," Kremer said. "It took about four hours to do just that tree."
His motto is "go big or go home," he said.
The work is back-breaking and the cost of decorations can quickly escalate into thousands of dollars, the men all said. Welsch admits the hobby brings a surge in his electric bill, but he refuses to let it spoil the season.
"It's Christmas, who cares," he said.