Friday, December 16th, 2011
Celina's wrestlers earn a split
By Gary R. Rasberry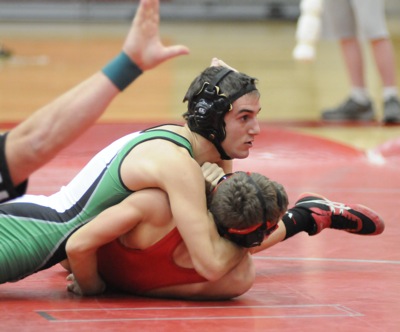 VAN WERT - The Celina wrestling team rebounded from a tough loss against Wapakoneta in the first match of a Western Buckeye League super triangular at Van Wert to defeat the host Cougars in the nightcap for the Bulldogs' first league win of the season on Thursday night.
The MatDogs, who won the championship at the Greenville Invitational last weekend, suffered a 51-20 loss to the defending WBL champs while Van Wert defeated Bath 36-30 in a match that was decided in the last bout. Celina then rebounded to beat the Cougars 36-33 while Wapak completed a 2-0 night after toping Bath 36-28.
The Bulldogs had just four individual victories in the loss against the Redskins. Chad Braun and Dustin Pease picked up pinfall wins while Cory Guingrich tallied a technical fall victory and Brandon Newland won by a decision.
"Wapak is a solid squad. They don't have many weak areas," said Celina's head coach Dave Hucke. "I thought our guys wrestled well against them."
Against Van Wert, Celina jumped out early 9-3, but ran into trouble against the Cougars' middleweight wrestlers. Celina lost matches at 152, 160 and 170 pounds as the Cougars charged in front 15-9.
The tide turned as the heavier weights came to the mat. Celina's Curtis Silliman won an 8-3 decision against Tyler Turnwald at 182 pounds while Kevin Lockwood and Trey Hecht put the Bulldogs in front after back-to-back wins by pin at 195 and 220 pounds. The Cougars pulled to within 24-21 after Terrin Contreras pinned Newland at 285 pounds.
Celina's Jacob Whitaker came through at 106 pounds with a pin of Korbin Schalois to make it 30-21 and then Aaron Crites secured the win for the Bulldogs with a pin of Ritchie Espinoza at 113 pounds. The Cougars scored pins at 120 and 126 pounds to cut the final deficit to three points.
"Got some wins out of people we needed to get wins from," said Hucke. "Not going to say surprise wins by any stretch, but nice to see. It pulled us through.
"Those three bigs (Silliman, Lockwood and Hecht) got us wins that were absolutely crucial. Then our two lights got us wins with pins. That put it away and sealed the deal. That was nice."
Guingrich and Braun were the only two Celina wrestlers to finish the night 2-0.
Darke County will host Celina's wrestlers on Saturday. The varsity team travels to Versailles for the Tiger Invitational while the junior varsity is in action at Greenville for an invitational.