Saturday, December 24th, 2011
Third quarter sparks Cardinals to beat Roughriders
By Gary R. Rasberry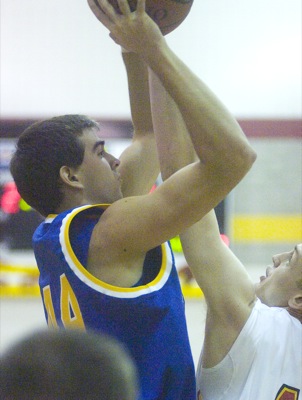 NEW BREMEN - The New Bremen Cardinals rode a strong third quarter of play to pick up their third straight win of the season in beating St. Marys 65-58 in an pre-Christmas Auglaize County boys basketball duel at Cardinal Gymnasium.
The Cardinals to go 4-1 on the season while the Roughriders see a two-game win streak snapped to go to 2-4 on the season.
For the first half of play, the teams went with their strengths. The Roughriders tried to get the ball into 6-6 senior J.D. Meyer, paying dividends in the first half as Meyer was 5-of-7 from the field in the first half for 16 points.
"We're kind of happy," said St. Marys' coach Dan Hegemier of Meyer's play. "J.D.'s got a bad wrist. Third quarter, we just didn't get it to him. Our ball movement wasn't good. Tried to do a few things to get it inside. It just didn't work out."
New Bremen countered with some solid play off the bench. Elliott Westerbeck scored eight of his 11 points in the first half, and Brent Bertke added two big second-quarter baskets to make it 26-all at the half.
"We bring four guys off the bench who can start every night," said Cardinals' coach Adam Dougherty. "Elliott started a year ago and has accepted his role. That's a big key to our success: kids accepting their role."
"They have kids off the bench who hurt us bad," said Hegemier, a note to the 18-0 advantage New Bremen had in bench points.
The action remained tight early in the third quarter, as the teams traded the lead six times in the first five minutes of the quarter. Parker Manger put the Cardinals ahead with 2:49 left in the quarter with free throws, then extended the lead when he got the hoop-and-harm three-pointer 17 seconds later. St. Marys went scoreless for two minutes before Garet Fledderjohann hit a pair of free throws to cut New Bremen's lead to 46-40 going into the fourth quarter.
"End of the third quarter, they stuck some perimeter shots on us," said Hegemier. "I didn't want to go to the zone that early, but I had to. Bremen plays hard."
Fledderjohann, who had just three points at the half and 10 points after three, hit a three-pointer early in the fourth quarter to cut it to 46-53, but that would be all the closer the Roughriders would get the rest of the way, as New Bremen shut down Meyer, holding him to just seven points in the second half, none in the third quarter.
"I think he's a really nice player," said Dougherty of Meyer. "We struggled with him in the first half. It wasn't much what we did inside with him, but we guarded their guards better, made it tough for him to get into the offense."
New Bremen took advantage of going to the foul line as well, hitting 10-of-14 from the stripe in the fourth quarter, getting up to as much as 10 points ahead before a pair of Fledderjohann NBA-distance three-pointers closed the gap late.
Aaron Clune paced a balanced Cardinal scoring attack with 16 points. Bornhorst, nearly doubled his seven-point per game average with 12 points with Westerbeck chipping in 11 the bench. Nine of the 10 Cardinals who played scored at least a point.
"We're balanced. We've got a bunch of kids who can play and a bunch of kids who can contribute," said Dougherty. "That's one of the reasons we're playing so well because it's hard to match up with balance. You key on one thing, we can do something else."
Meyer finished with 23 points and 12 rebounds. Fledderjohann added 19 points.
New Bremen returns Friday with a short road trip to Fort Loramie. St. Marys heads to Rockford on Thursday and Friday for the Chatt Insurance Holiday Tournament, taking on River Valley in a semifinal contest.