Wednesday, December 28th, 2011
Minimum wage increase brings joy, fear locally
By Shelley Grieshop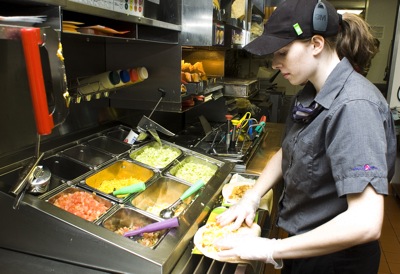 A 30-cent per hour hike in the minimum wage starting Sunday is good news for many but may be harmful to Ohio's fragile economy and job market.
Charlie Gels, owner of Gels Market in St. Henry, said being forced to increase wages to $7.70 per hour for entry-level employees could cause him to downsize his staff.
"I'll cut back on those people if I have to pay that much," he said.
He'd rather pad the pockets of his more qualified employees than inexperienced teenagers who work only to appease their parents, he said.
The new statewide $7.70 per hour rate applies to workers 16 and older who don't get tips. Tipped employee wages will rise 15 cents to $3.85 per hour if their total pay is more than $7.70 per hour.
It's estimated that 347,000 Ohio workers will directly benefit and another 56,000 will net a raise if employers opt to adjust pay scales.
Employers who gross more than $283,000 annually must abide by the new rate. For smaller companies and 14- and 15-year-old workers, wages must match the federal rate of $7.25 per hour.
Exempt are government workers such as seasonal help hired by municipalities, employees of family-owned businesses who are relatives of the owner and others stipulated in the Ohio Revised Code.
Ohio voters passed a constitutional amendment in 2006 that allows for an annual increase in minimum wage to keep pace with the rising cost of living. The last adjustment was made in January 2009.
Joe Cavanaugh, an economics professor at Wright State University-Lake Campus in Celina, said the timing isn't the best.
"If we had a booming economy, there would be much less concern," he said.
Cavanaugh said the action will yield mixed results.
"The bumps in pay should help the economy in some ways but that money's not just coming out of nowhere," he said.
The purpose of the minimum wage statute is to provide adequate pay to first-time workers as they gain experience, the professor said. However, he's sure the upcoming increase will make some employers reluctant to hire.
Brent Bellman, a full-time minimum wage employee at Taco Bell in Celina, said he welcomes the extra $12 he'll net per 40-hour pay period - about $600 extra per year. He wishes it were more.
"It guess it will be nice to help with gas money but everything else keeps going up, too," he said.
Despite working full time, he is not eligible for health insurance at the fast-food chain and often struggles with medical bills, he said.
Bellman's boss, general manager Amber Vogel, said the new rate throws her a scheduling curve. She must achieve a set percentage between labor costs and profits to keep the business successful, she said.
"Since we opened the (newly-remodeled) building we've been busier and that's helpful," Vogel said.
Michelle Fox, a part-time worker at the Certified gas station in St. Marys, is paid "a little more than minimum" but hopes her wages are adjusted accordingly when the new rates take effect.
"Between groceries, gas, rent, utilities ... I understand this is meant to help, but I don't think it's enough," she said.
Officials with the Ohio AFL-CIO say the extra cash will give hope to many.
"If you are only making the minimum wage, you are essentially just surviving. After buying gas and groceries, too many Ohioans are broke until the next paycheck," said Tim Burga, president of the labor organization. "This increase will slow down the race to the bottom and help lift up those Ohioans struggling to make ends meet."