Wednesday, December 28th, 2011
Celina picks up third straight win
By Ryan Hines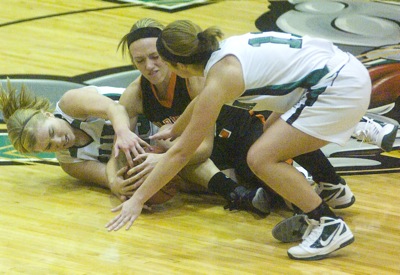 CELINA - An aggressive mentality on both ends of the floor helped the Celina girls' basketball team to a convincing 63-43 victory over Coldwater on Tuesday night at the Fieldhouse.
The Bulldogs have relied on a zone defense for most of the season thus far, but Celina's head coach Brian Stetler felt that a man-to-man defense was the best way to defend the Cavaliers.
"We play a lot of zone, but I just felt we needed to play more man-to-man against Coldwater because they have some good shooters that we didn't want to leave open," said Stetler. "Our girls did a good job of executing what we wanted to do on defense, especially in the first half."
It was a dominant defensive performance by the Bulldogs in the first half as Coldwater was just 4-of-20 shooting from the field (20 percent) with 13 turnovers.
Coldwater led 3-2 at the 5:36 mark of the first quarter but the Cavs were held scoreless for the next six minutes of the game and missed their next 12 shots.
"I thought that we really came out flat tonight and didn't look ready to play at all," said Coldwater's head coach Nick Fisher. "You can't come out and play like that on the road and against a good team. When you come out flat like we did tonight, good teams take advantage, and that's what Celina did."
While Coldwater was held scoreless for the six-minute span that extended to the 7:36 mark of the second quarter, Celina reeled off 16 consecutive points to grab a commanding 18-3 advantage. Kylee Bader hit a pair of three-pointers to highlight the Bulldogs' spurt while Hillary Heiby added four more points.
"I thought that we played aggressive defense and got our hands on a lot of balls tonight that helped jump start our offense," said Stetler. "When our defense is creating offense, that's what I want to see."
Coldwater pulled to within 12 points early in the third quarter after a trifecta from Courtney Wellman but Celina responded by scoring eight straight points to push the lead to 20 at 39-19 with 3:06 to play in the third quarter. Emily Bihn had four points to ignite the quick Bulldogs' spurt.
"It seemed that each time we got within striking distance, they hustled more than us for a loose ball or a rebound and then they hit a shot to stop our momentum," said Fisher. "We were sluggish tonight and not very quick to the ball. Tonight's performance was not evident of the way we have played this season."
Celina didn't settle for jump shots with the large lead and aggressively attacked the basket throughout the second half. The Bulldogs made 17-of-23 shots from the free-throw line in the final two quarters of play as Katie Stahl and Danielle Bihn each sank 5-of-6 in the second half.
"That's the second straight game that we did a good job of getting to the free-throw line and then converting once we got there," said Stetler. "We continued to attack the basket and never let up. That's good to see."
Stahl and Danielle Bihn were the brightest stars for Celina as Stahl scored a game-high 14 points to go with 10 rebounds while Bihn, who stands just 5-6, added 13 points with a game-high 11 rebounds.
"Having two girls get double-digit rebounds is big for us," said Stetler. "That's what we have to get if we want to be successful."
Wellman was the top offensive weapon for the Cavaliers with 14 points, 12 in the second half. Sarah Kanney hit a trio of three-pointers and finished with 11 points.
Celina is back in action again on Jan. 5 at the Fieldhouse with Defiance coming to town while Coldwater hosts Parkway on the same date.