Saturday, January 7th, 2012
Flyers stun Redskins with late comeback
Marion Local rallies from seven-point deficit in final 3:30 for MAC victory
By Randy Bruns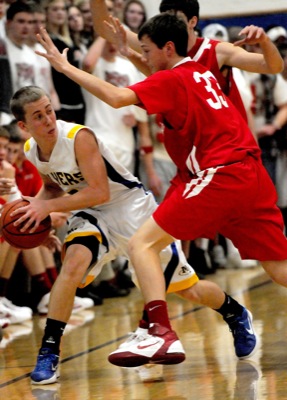 MARIA STEIN - The Marion Local Flyers dug themselves a big fourth-quarter hole on Friday night at The Hangar, but they found a way to soar up and out of the hole for a big win over the visiting St. Henry Redskins.
The Flyers trailed by seven with three and a half minutes remaining in the game but went on a nine-point run to the end game to stun the Redskins by a score of 44-42.
Marion improves to 4-2 on the year and starts its Midwest Athletic Conference slate at 1-0 while St. Henry falls to 4-3 overall and 0-2 in league play.
This one was nip and tuck the whole way, with 12 lead changes and five ties throughout, but all the decisive action was packed into the final four and a half minutes of the contest.
Trailing by just one at 35-34, St. Henry went on a quick scoring spree that lasted only a minute but was effective. Kyle Stahl gave the visitors the lead back with a jumper and Ryan Mikesell followed with a layup off a steal. Stahl then rebounded his own miss and scored while being fouled, and though he missed the free throw, another offensive rebound set up a bucket by Jordan Bender.
In the span of 60 seconds, the Redskins appeared to have broken the game wide open, but the Flyers had other ideas.
Alex Rosenbeck started the comeback with a jumper from the foul line and the senior followed with a three-ball that pulled Marion back within two points. Craig Niekamp then got loose under the bucket and took a pass from Rosenbeck to tie the game at 42-apiece with just under a minute left to play.
The Redskins quickly turned the ball back over to the hosts, who waited patiently before attacking the visitors' trapping defense. Dylan Thobe slipped a perfect touch pass down to Niekamp and the senior put it up and in to give the Flyers a two-point lead with just six seconds remaining.
St. Henry's last chance started out badly when Marion forced the dribbler to the sideline and Alex Post's desperation 35-footer didn't even draw iron.
"St. Henry had gone to their bench more than we did throughout the game, so I basically challenged the kids in the huddle," said Marion's coach Kurt Goettemoeller of his team's last-minute comeback. "I said 'What are they going to write in the newspaper tomorrow? That they wore us down? Or do you have two and a half more minutes in you and can you dig yourselves back in this?' They certainly responded down the stretch."
St. Henry's coach Eric Rosenbeck pointed to poor execution late in the game as the reason for his team's demise.
"We didn't make plays and they did, it's that simple," stated Rosenbeck. "We missed a one-and-one and had two or three really costly turnovers, and then we let them get an offensive rebound which broke down our defense and they got an open three to make it a two-point game. It wasn't our defense that fell apart, it was the offense. When you have turnovers, it's hard to set up your defense because they're running down the court.
"When we realize that we have to play a full 32 minutes instead of just 16, then we might be a pretty good team. But you can't play a half a game in the MAC and expect to be anything other than an average to sub-average team."
The Flyers got a huge scoring lift from Niekamp, who was held scoreless in his season debut last week against Wapakoneta. The senior poured in a game-high 19 points on a sizzling 9-of-11 effort from the field.
"What can you say about Craig," queried Goettemoeller. "He got back into action last week and I know he was frustrated because nothing was going down for him. He's a senior and he just has to stay confident in himself, and tonight he was the difference in the game."
Stahl paced the Redskins with 18 points on a stellar 8-of-11 shooting night.
Both teams will take the court tonight against non-conference opponents, as St. Henry will host Celina while Marion entertains Anna.